How to Use Chromecast for Linux to Cast Videos, Music & More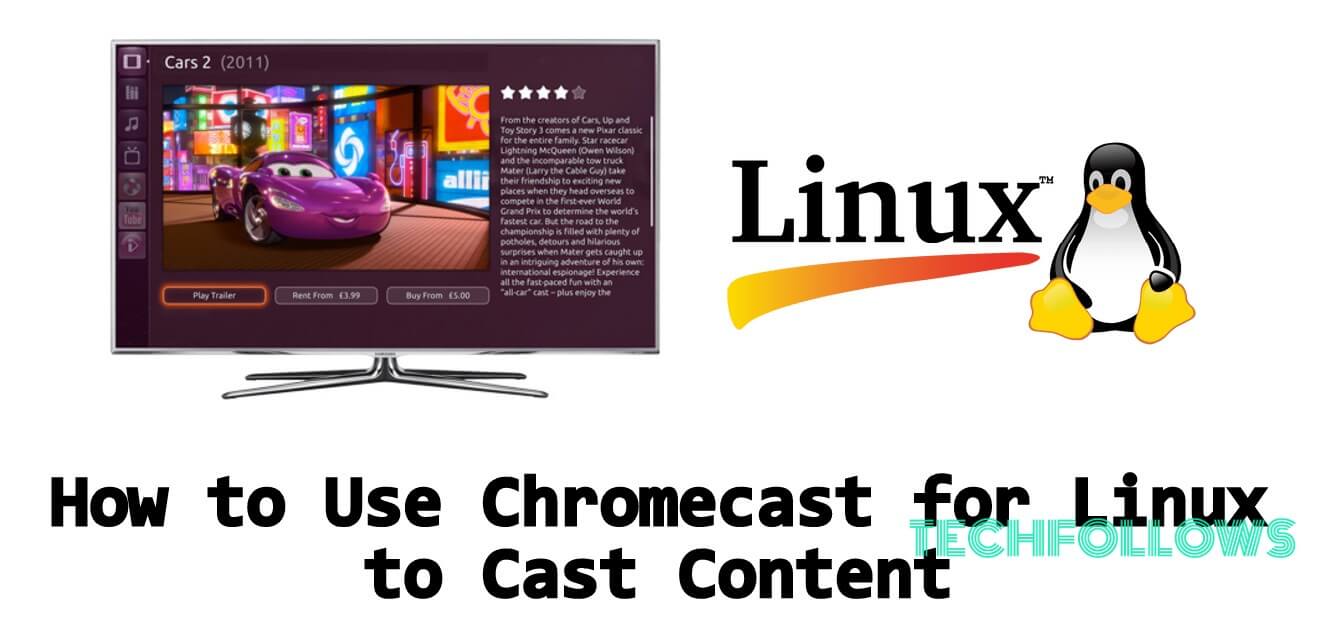 The Chromecast is an ultimate handy gadget to stream movies or music from Netflix, YouTube, or even Facebook from your mobile to your TV. Not only from the mobile devices, you can use Chromecast to cast media from your PC/laptops to your TV. It can be your modern day alternative for your projector to cast your projects from PC to a big screen. Chromecast works fine with PC/laptop with any operating system like Windows, Linux, etc. All the modern day TVs now come with HDMI ports making it easy for Chromecast to turn any TV into a smart TV.
Related: How to Use Google Chromecast with iPhone, iPad or iPod Touch
Why you need a VPN
While Streaming online, your IP will be exposed easily. Hence ISPs (Internet Service Providers), app developers, government agencies and hackers can track your online activities with ease. At the end of the day, you may face some legal problems if you have streamed any copyrighted contents. To avoid these problems, we recommend you to use VPN (Virtual Private Network). A good VPN lets you hide your real identity by switching your IP to different locations. On the other hand, VPN is also helpful in accessing the media that are geo-restricted. Some of the apps/services like Netflix, Amazon Prime Video, Hulu, BBC iPlayer and more are geo-restricted in certain countries. To bypass those restrictions, you need to install a VPN on your device.
Black Friday and Cyber Monday VPN Deal:
After trying out several free and paid VPN services, we recommend you to use NordVPN. It is regarded as the best VPN to safeguard your privacy. While purchasing the NordVPN, make sure to select the annual plans rather than selecting the monthly plans. Moreover, you will also get a 80% instant discount on a 3-year plan.
It is simple to cast video and audio to your TV from Linux based PC using Chromecast or Google cast devices with Mkchromecast. It is written in Python, and it streams via node.js, ffmpeg, or avconv. Mkchromecast uses both lossy and lossless audio formats provided that ffmpeg, avconv (Linux), or parec (Linux) are installed. It also supports Multi-room group playback and 24-bits/96kHz for high audio resolution. Linux users also can configure ALSA to capture audio. In this article let us see how to cast or mirror contents from a Linux PC to TV using Chromecast.
How To Cast Video from Ubuntu to Chromecast
Firstly you need to download Mkchromcast to cast videos and other media to TV.
Download Mkchromcast for Linux
Click the below link to download the Mkchromcast to your Linux based PC.
The Video casting works on both node and FFmpeg backends. Ensure that you have paired the Chromecast with Mkchromecast using the Mkchromecast tray applet. Do not forget to quit the tray applet before casting a video to Chromecast, else you will get issues out of that.
Now open a new Terminal window and run:
mkchromecast –video -i "/path/to/file.mp4"
If you want, you can specify a backend to process the video.
mkchromecast –video -i "/path/to/file.mp4" –encoder-backend ffmpeg
If you want to cast videos with subtitles, just pass –subtitles flag and point the app to a matching .srt file
mkchromecast –video -i "~/Videos/Example.mkv" –subtitles ~/Videos/Example.srt
To cast videos files that are online using their URL, use the –source-url flag
mkchromecast –source-url http://commondatastorage.googleapis.com/gtv-videos-bucket/sample/BigBuckBunny.mp4 -c mp4 –volume –video
It is also possible to cast YouTube videos using this method, but have in mind that the videos will be downloaded first and then it will cast the video to TV.
If you have doubts in downloading and converting youtube videos, check this link youtube converter mp4.
mkchromecast -y https://www.youtube.com/watch?v=NxD_kWK8A5M –video
Read also
Hope you will now be able to cast your videos, music, or other media content to your TV from a Linux PC. Comment below for doubts or clarifications.
Disclosure: If we like a product or service, we might refer them to our readers via an affiliate link, which means we may receive a referral commission from the sale if you buy the product that we recommended, read more about that in our affiliate disclosure.