How to use Google Chromecast Without WiFi? [Easily]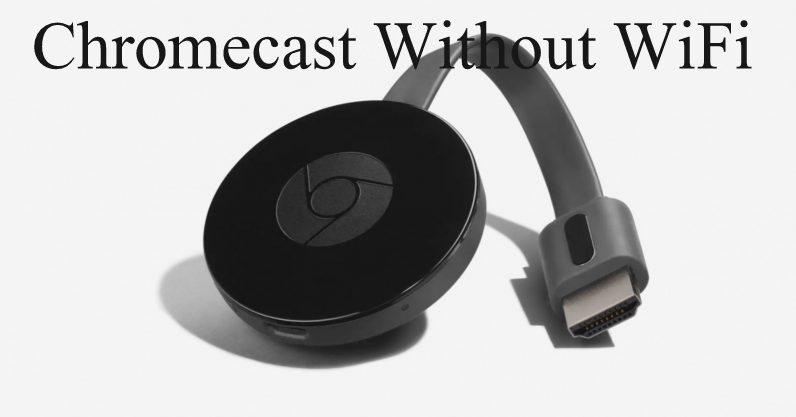 Chromecast is a Google's product that can be used to stream media contents on your TV from iOS, Android, Mac and Windows devices. The new and improved version of Google Chromecast has a lot of exciting features for its users. To run the Google Chromecast device on your device without a WiFi connection is simple. Before, that make sure you have the latest software version of the Google Chromecast. Without a WiFi connection, you can stream the locally stored contents on your device with the help of mobile's hotspot or Travel Router. If you have queries in Chromecast setup and installation, learn here.
You may also like: Chromecast for Windows
How to Use Chromecast Without WiFi
To use Google Chromecast without WiFi follow the steps given below.
Step 1: Before, casting your Chromecast check whether your device has updated with the latest Firmware.
Step 2: Open the Google Home app on your primary device and click the cast button.
Step 3: The device starts to search for the nearest compatible devices. Once the devices are found, it will be displayed on the screen, then select your Chromecast.
Step 4: Now you will see a four-digit PIN on the screen. Enter the PIN on the Chromecast app to connect the device.
That's it, your primary device is connected with Google Chromecast. Now, You can stream the locally stored contents on your TV by Chromecast without WiFi.
Use Google Chomecast With Travel Router
The Travel Router is used for creating a local WiFi network and it can be used as a medium to connect your Chromecast with your casting device.
To do so, please follow the steps below.
Step 1: First, you have to set up the travel router by providing the network name(SSID) and Password.
Step 2: Open Google Home app on your primary device and connect your Chromecast with the Travel Router.
Step 3: Travel Router will establish a new WiFi connection while you plug in on the new location. You can connect your device with Chromecast even if there no internet available.
Step 4: Connect the router with the casting device. In case, if you are in a hotel, then from the television settings menu find the router and enter the password.
Step 5: If the router does not appear automatically, you have to enter the SSID and Password manually from the network settings of your device.
Step 6: After connecting your device, the television should appear as a destination for casting. Now select TV as your streaming destination in the Chromecast App. Now you have connected the device successfully.
Step 7: Now you can stream all the locally stored contents on the television without an internet connection.
These are the methods that can be to used to use Google Chromecast without WiFi.
If you are a Kodi user, i recommend you to try Kodi on Chromecast.
Final Thoughts
In this article, you would have learnt "how to use Google Chromecast without WiFi". These methods will be quite useful for users with poor internet connection and frequent travellers.
You may also like to learn How to reset Chromecast?
Thank you for reading the post. For further queries, comment below.
Disclosure: If we like a product or service, we might refer them to our readers via an affiliate link, which means we may receive a referral commission from the sale if you buy the product that we recommended, read more about that in our affiliate disclosure.