What is Emby? Everything You Need to Know in 2021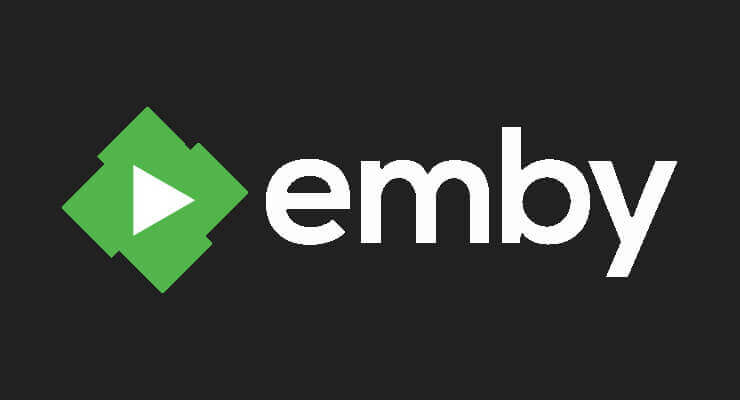 If you've spent some time researching the best media center apps for your personal media's, then you should have probably come across Emby. It is an open source media center application that lets you organize your various type of media files like audios, videos, and pictures. It provides an attractive and easy dashboard that helps you to access all different kinds of media that you've stored on your media server with ease. Just like Plex, it uses a server-client setup. The Emby server software can be configured on the PC or NAS devices and you can stream the stored content to any device that utilizes the Emby client software.
Topics Discussed: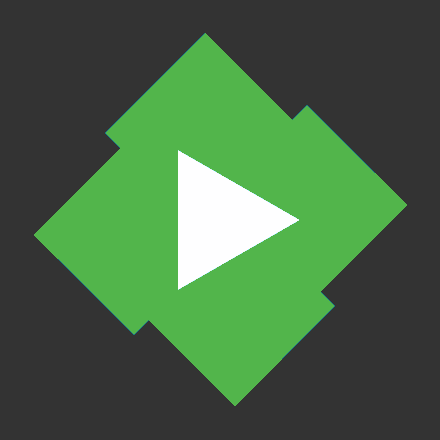 Emby Supported Devices
Here are the platforms that support the Emby Media Server and Emby Apps:
Emby Media Server:
Windows
Linux
Mac
FreeBSD
docker
Nvidia Shield
Compatible NAS (network-attached storage) devices
Emby Apps:
Android
iOS
Windows (PC & Mobile Phones)
Android TV
Amazon Fire Stick
Nvidia Shield
Apple TV
Chromecast
Roku
LG Smart TV
Samsung Smart TV
PS4 & PS3
Xbox One & Xbox 360
Kodi
What is Emby Premiere?
Emby Premiere is a subscription service that offers additional features in both media server and media apps. It provides some of the advanced features like Offline media, Emby DVR, Free Apps, Cinema Mode, Cloud Sync, Cover Art, Emby Theater, Folder Sync, Media Conversion, Backup & Restore, Podcasts, and Smart Home. The Emby Premiere will be added to your server by entering the Emby Premiere Key. All the features will be tied to that key. The Emby Premiere costs $4.99 for one month, $54 for one year and $119 for the lifetime subscription. You can make payments by using either PayPal or credit/debit card method.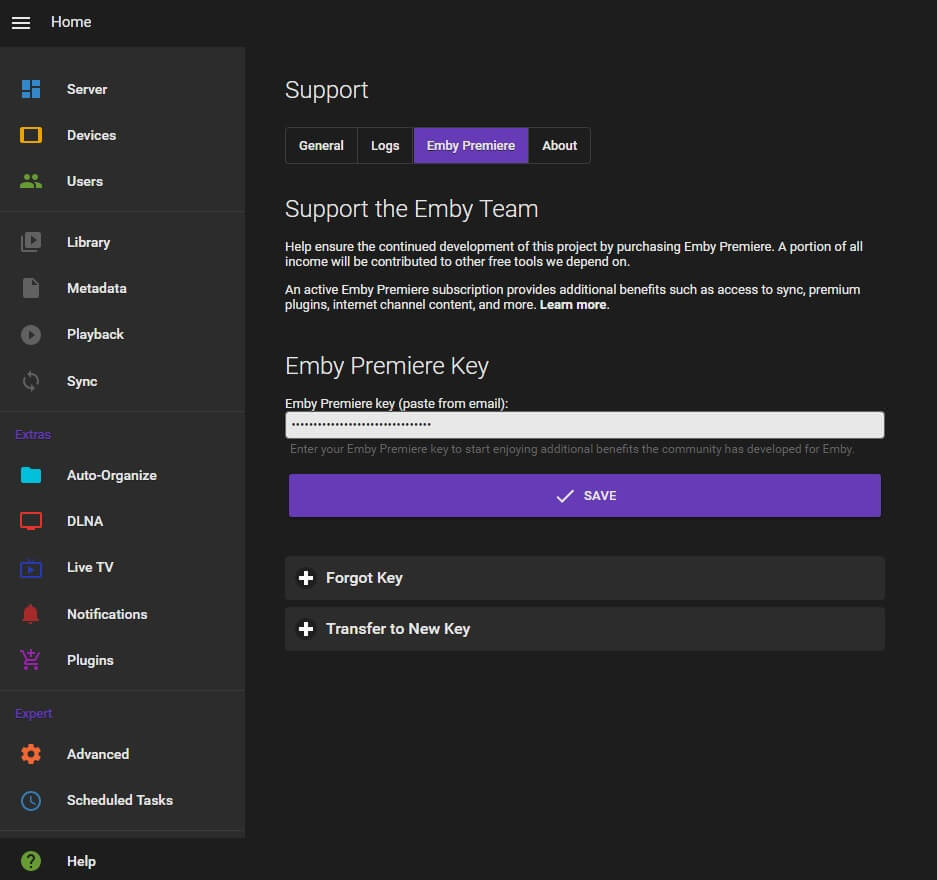 What is Emby Connect?
Emby Connect is a free service that lets you access your Emby apps while you are away from home. Generally, signing into the server requires a server IP address, username, and password. But with Emby Connect, you can connect to the server without knowing the server IP address. An invitation from the owner of Emby Server is enough to access the server.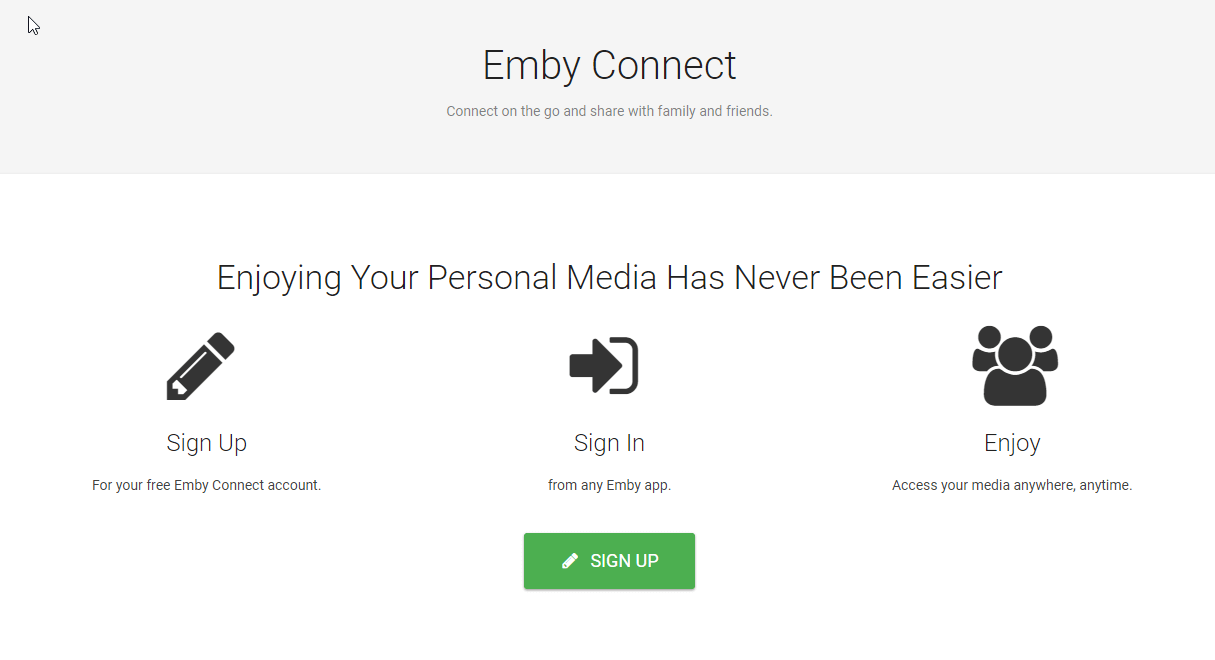 What is Emby Theater?
Emby Theater is a client for Emby Server and it runs of Windows 7 and higher. It lets you enjoy your favorite audios and videos on any computer in the network. With its transcoding feature, it can run any type of media, without downloading or sharing the file. You can configure the built-in player with the customizable audio and video rendering options. You can use Emby Theater alongside remote control (mobile phone or web browser) to make it ideal for the HTPC (Home Theater PC) connected to your media center.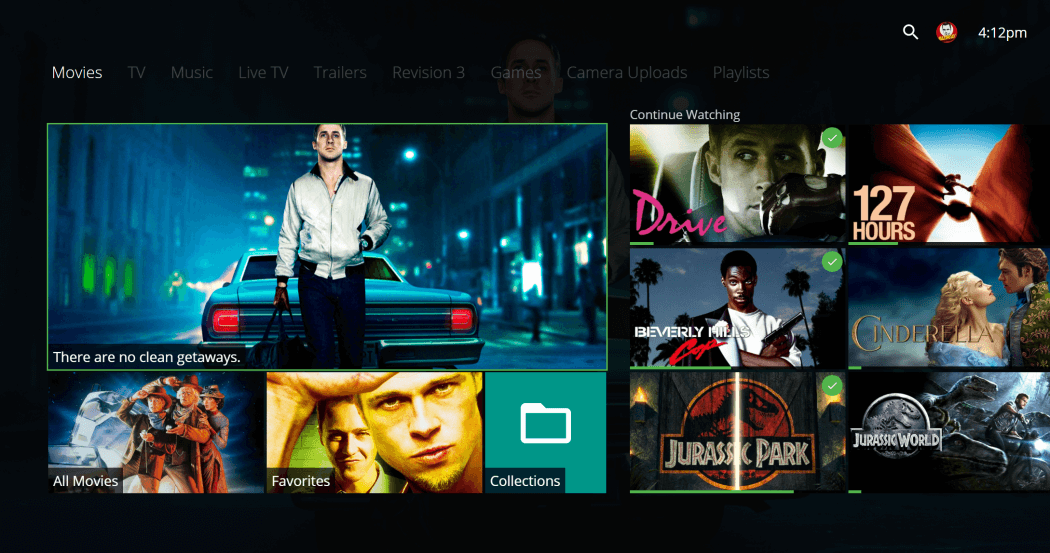 Emby Plugins
Just like Kodi Addons, Emby Plugins will provide more additional features and services to Emby apps. You can access the Plugins menu from the server dashboard. My Plugins menu will display all the plugins that are installed on your server. You can configure each plugin by tapping the three-dot menu icon located near to the plugin.
Emby Live TV
One of the main advantages of using Emby is that it offers live TV feature for free. But you can watch live TV only on the web app. To watch live TV on other devices, you must need the Emby Premiere service. By default, Emby supports HDHomeRun tuner and you can add the support for other tuners by using live TV plugins.
Emby Alternatives
Since some of the features in Emby are in development stage, you can look out for other options. Here are some of the alternatives to Emby
Kodi Media Player
If you are searching for the best alternative to Emby, then Kodi will be the first choice. It is a free and open source media player that lets you stream all the media files on your preferred platform. With various addons (both legal & illegal), you can enhance your streaming experience to the new level.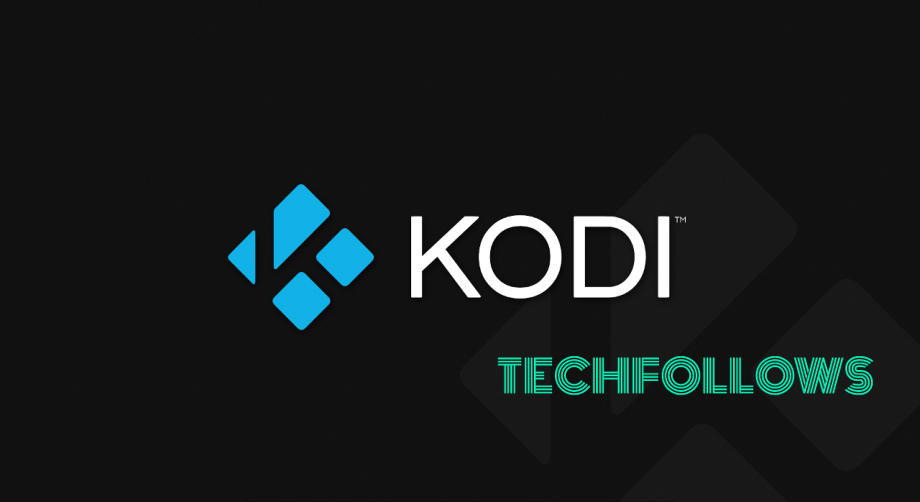 Read more about Kodi Media Player.
Plex
Plex is another media center application that provides the same features as Kodi and Emby. Just like Emby, it uses the same server-client setup. With Plex Pass service and various plugins, you can access various advanced features on the compatible platforms.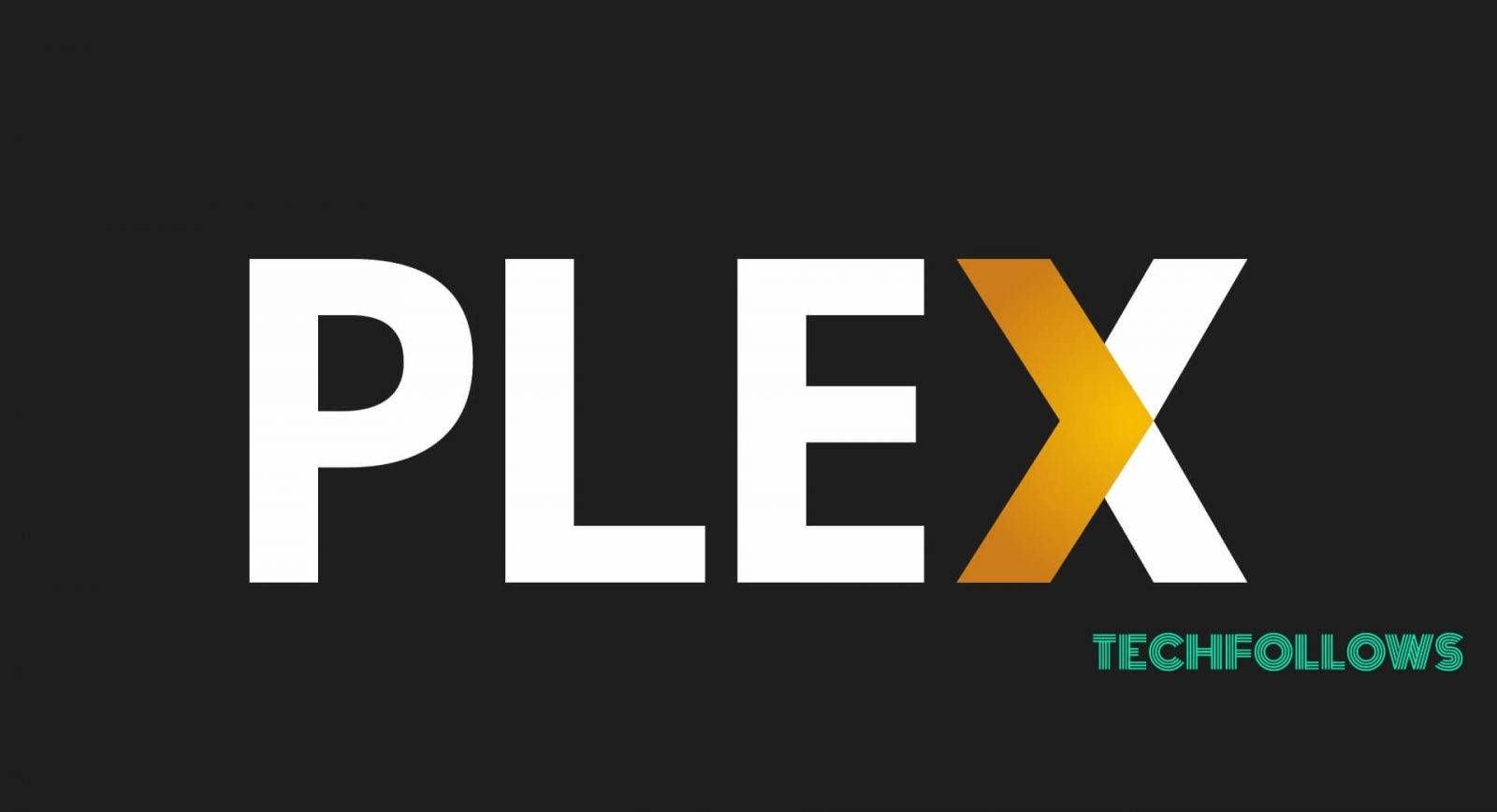 Read more about Plex.
Universal Media Server
Universal Media Server is a DLNA-compliant UPnP Media Server that supports operating systems like Windows, Mac, and Linux. It streams different media format by transcoding them to the compatible media format.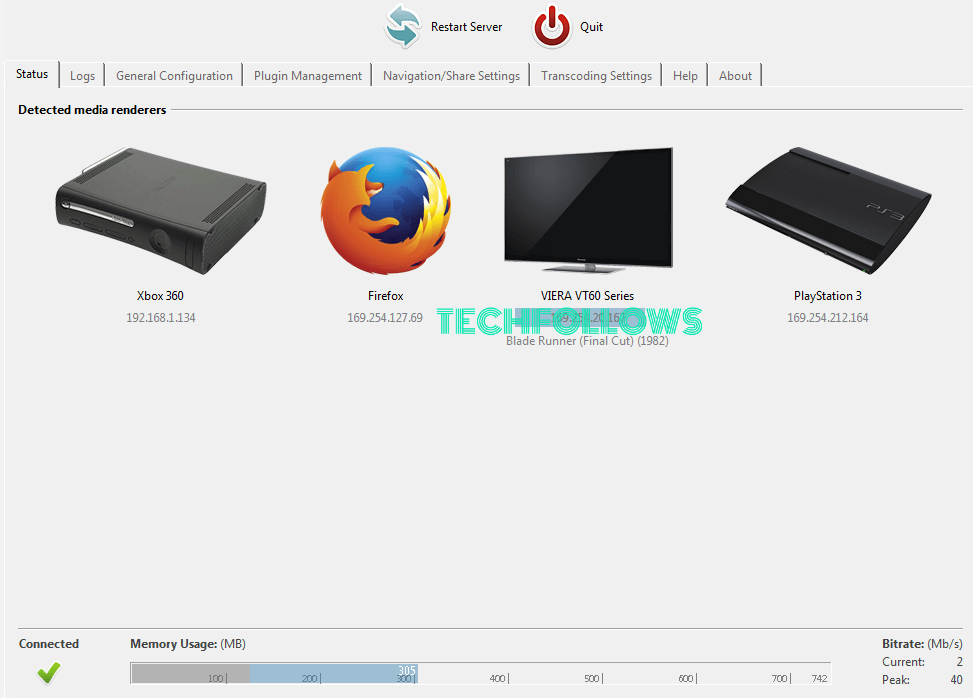 Emby Review
To wrap this up, Emby is a much-needed media center if you organize and stream all your personal media's. There are active forums to help new users. Emby Premiere will add more features to both server and media apps. We hope the article on Emby Media Server is really helpful to you.
Thank you for visiting TechFollows.com. For further queries and feedback, feel free to leave a comment below.
Disclosure: If we like a product or service, we might refer them to our readers via an affiliate link, which means we may receive a referral commission from the sale if you buy the product that we recommended, read more about that in our affiliate disclosure.