How to Get Stylish Names on PUBG Mobile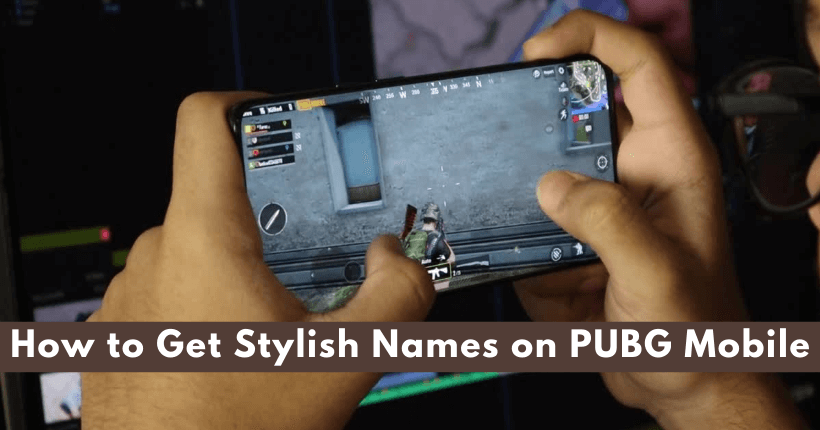 PUBG Mobile is a popular battle royale game available for Android and iOS devices. The game will be updated every month with new maps, events, weapons, and more features. The game is all about fighting other 99 players on an 8*8 km island to survive till the end. Users can make their PUBG profiles unique by using stylish names to stand out from other players. One can add symbols and special characters to make the username unique. Here, we will show you the best way to create stylish and unique names for your PUBG Profile.
PUBG Name Generator
There are so many generators available online to create stylish names. But, we recommend you use PUBG Name Generator. By simply entering your name, the generator will display several names, which you can simply copy and paste into your profile. By scrolling further down, you will find several innovative symbols. You can add them to your username by simply tapping on it. You can also get ideas for your username by scrolling further down.
How to Create Stylish PUBG Mobile Names Using PUBG Name Generator
#1. On your Mobile device, open a browser and visit the PUBG Name Generator site.
#2. Scroll down to the Search bar and enter the username of your choice.
#3. Hit the Generate button, and the results will appear within a few seconds.
#4. Select the style you want and hit the Copy button next to it.
#5. Launch the PUBG game and change the name by navigating to the home screen → Inventory → Crate icon → use the Rename card → paste the copied name by long pressing on the naming field.
Related – How to Delete PUBG Mobile Account Permanently
Best PUBG Stylish Name Ideas
Nʋttƴ Doɱɩŋʌtɩoŋ
Cooɭ Lʌʋŋɗʌ
Sтүгїѕн яөииү
Iиԁїди Kиїҩнт
Bʀʋtʌɭ Kɩɭɭɘʀ
Tʜʋʛ Oŋ Loosɘ
Aɭoŋɘ
ɭovɘʀТђє Ғїԍђтєя
ʆɩʀɘʆɭƴ
Mƴstɘʀɩoʋs
Spɩɗɘʀɱʌŋ
Kɩŋʛ Oʆ ĸɩŋʛs
Gɭɩstɘŋɩŋʛ Pʀɘstɩʛɘ
Ofͥfiͣsͫtuar
Wǝlʎpʇoolp
Pʋʀʀɩŋʛ Coɘʀcɩoŋ
Rɘʛʋɭʌʀ Dɩscɩpɭɩŋɘ
Dɩʑʑƴ Iʀʀɘsɩstɩɓɭɘ
Mɘɗɩcʌɭ Rɘɓɘɭs
Scʌʀcɘ Eŋɘɱƴ
♂Percept𝖎veOvern
ŁeຮຮeͥJoͣoͫຮe❥
ƁᙈββŁΣßΛĻŽ
мoℓαɢ вαℓ 랜
『sʜʀᴋ』•ᴮᴬᴰʙᴏʏツ
꧁▪ RคᎥនтαʀ ࿐
|•νєиσм
ʀɩppɘʀ
joĸɘʀ
Aʛɘŋt47
Pʋɓʛstʀɩĸɘʀ
ℓσя∂ vσℓ∂εмσят
Ǥнσsτ☆ℜideℝ
Cʀʌʑƴ Lovɘʀ
ʝѳkɛʀ
Fɪɴᴀʟ乂Sᴛʀɪᴋᴇ
Kɩɭɭsʜot
๖ۣۜǤнσsτ
Շѧмѯ_️θѵэя=
Marĸ Zucĸeʀʙeʀʛ
Fāɖɖēʙazz
Cʜʌtpʌtıı Kʋɗıı
Tʜɘ Ɱʌstɘʀ Mʌʆɩʌ
Rʋɗɗƴ Extɘʀɱɩŋʌtoʀs
Gɩɓɓɭɘt Pʌŋtʜɘʀ
『sʜʀᴋ』•ᴮᴬᴰʙᴏʏツ
Ɩɛɠɛŋɖʂ
τєค๓ˢτℽliຮh
丂Åꃅꪑβꃅ℧
Psƴcʜɘɗɘɭɩc Sɘʀvɩcɘɱɘŋ
Mɩɭɩtʌʀɩstɩc Fɩʛʜtɩŋʛ Mʌcʜɩŋɘ
Lƴʀɩcʌɭ Aʀɱɘɗ Sɘʀvɩcɘs
Oʋtʀʌʛɘoʋs Doɱɩŋʌŋcɘ
Hoɱɘɭƴ Sʜʌʀpsʜootɘʀs
Cʜʋłɓʋłıı Cʜøʀıı
Cʋp'Cʌĸə
Pɭʌɩŋ Pʀɩvɩɭɘʛɘ
Coɱpɭɘx Sɭʌƴɘʀs
Fʌʋɭtƴ Dɘvɩɭs
Fʌŋʌtɩcʌɭ Tƴʀʌŋŋƴ
RคᎥនтαʀ
Dɘstʋctɩvɘvɩʀʋs
Cʜɩcĸɘŋɭovɘʀ
Soɱĸɩŋ Gʜɘtto
Pʋɓʛɩʌŋ
Cʜåɽɱıŋʛ Pẘīŋcē
Cʜατρατıı Κυδıı
Stʋpɘŋɗoʋs Kŋɩʛʜts
Nɘw Exɩɭɘ
Kŋowŋ Wʌʀʆʌʀɘ
Foʌɱƴ Gʌŋʛ
Tɘʌʀʆʋɭ Dɘʌɗɭƴ
Oɓsɘʀvʌŋt Foʀcɘ
Gʀɩɘvɩŋʛ Bʋtcʜɘʀs
Hoɱɘɭƴ Sʜʌʀpsʜootɘʀs
Aɓŋoʀɱʌɭ Vɩʛoʀ
Рэяғэст Ѕмөкэя
Həʌɽtləss Ʌlcoholıc
Nʌlʌyʌk Lʌðkʌ
✿Gᴀᴍᴇʀ࿐
Sɭʌʋʛʜtɘʀ ĸɩŋʛ
Kїиҩ Kнди
Lɘʆt Dɩvɩɗɘ
Kʀʋstƴ Dɘɱoŋ
❖ᎪຮᏂυ
Fʋʀƴ Rʌvɘŋ
Vɩxɘŋ Gʀʋɱpƴ
Bʀoĸəŋ'Aŋʛəɭ
Bʀʌŋɗɘɗ Kʌɱɘɘŋʌ
BʌɗTäɱêêʑ Cʜõĸʀá
Cħąɭo'cħoʀo-ƴąąʀ
Cʋt-Gɩʀɭ
sυραяι кιℓℓεя
Ʈhuʛ Ḷıƒe
Coɱpɭɘx Sɭʌƴɘʀs
Fʌʋɭtƴ Dɘvɩɭs
Zɘʌɭoʋs Sqʋʌɗ
Bệɭʌ Oŋ-Fıʀệ
Disclosure: If we like a product or service, we might refer them to our readers via an affiliate link, which means we may receive a referral commission from the sale if you buy the product that we recommended, read more about that in our affiliate disclosure.