The Newest Trends in Online Gaming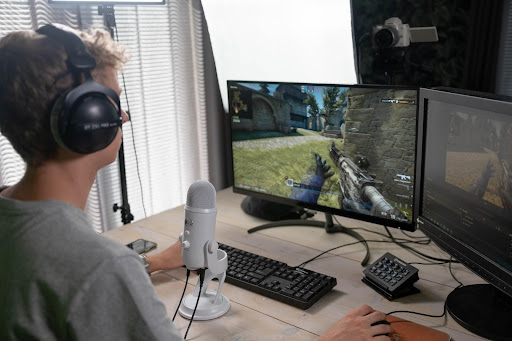 The online gaming industry has grown exponentially during the last decade, and it continued growing even more.
Recently, the development of the industry has been transformed by various trends as well as some new technological advancements. Let's go through some of the newest trends in online gaming.
Game Streaming
Live streaming has become one of the most popular aspects of online gaming. Twitch, one of the most popular streaming companies out there, lets seasoned players use the platform to broadcast their skills to millions of followers.
Twitch is also experiencing incredible growth from year to year, and the streamers with the largest number of followers like Ninja or Tfue make serious amounts of money by sharing content with their fans.
AR, VR, and XR
AR (Augmented Reality) and VR (Virtual Reality) are two major trending gaming technologies. Most fans have already either tried them out or read about other people's experiences with AR and VR.
Augmented Reality and Virtual Reality added a realistic component to many popular online games. The players now have a chance to engage in highly immersive experiences with a lot more excitement.
Another emerging technological trend is XR – the extended reality. XR is the result of merging virtual and augmented reality to provide the players with an incredible user experience.
The Rise of Online Casinos
Investing real money in online casino games has been a popular pastime for numerous players worldwide. Many players appreciate the convenience of having a chance to play from the comfort of their own homes, any time they like, using their preferred devices.
Therefore, online casinos have been on the rise all over the world. They are not only available in the USA or European countries such as Italy or Malta, but in faraway places like New Zealand, too. Almost every country around the world already has well-developed online casino operators. For example, one of the best online casinos in NZ is Sky City – an operator that keeps growing and dropping off new game titles all the time.
Free Base Games
The trend of the free base game is one of the biggest steps in the industry when it comes to the money-making process.
Before, when new users wanted to play a game, they normally had to pay for it. This is still the case with the majority of console games, but when it comes to browser-based and mobile games, more and more of them are becoming free to play.
However, such games make money in an interesting way. They depend on microtransactions that the players make as they progress through the game. Instead of making a one-off payment at the very beginning, the players keep paying smaller amounts of money to skip ahead, unlock new features, upgrade their characters, and more.
Cloud Gaming
This branch of industry is expected to reach $7.24 billion in revenue by the year 2027, and Microsoft is one of the leading companies in the field. Their teams constantly work on offering seamless experiences both on consoles and mobile devices.
As new technologies progress, the players will have even smoother access to exciting games with incredible features. Apple Arcade, Playstation Now, and Tencent START are some of the popular platforms that currently support cloud gaming.
The Growth of Mobile Gaming
The Covid-19 pandemic contributed significantly to the fast growth of the mobile gaming industry.
Modern gamers find playing on mobile devices much more convenient than sticking to personal computers, and developers keep working on new responsive and mobile-friendly options.
As the demand for mobile gaming keeps growing, mobile device manufacturers are also constantly working on releasing more optimized smartphones and tablets.
Thanks to this trend, the players can enjoy the same experience across all the different platforms they use, without investing in pricey hardware.
The Trend of Remastering
Companies like Microsoft and Sony are doing whatever they can to meet their customers' needs when it comes to modern remakes of their favorite titles from the past. In the last decade, developers have recreated a large number of well-known classics that kept the users hooked for years.
Passionate gamers should be prepared to enjoy their good old favorites with improved graphics, a better quality audio experience, and many other fun new features. Some of the most popular remakes that were released in the recent past are Final Fantasy VII Remake and Resident Evil 3.
Conclusion
The unstoppable growth of online gaming in recent years has brought a number of exciting new features. The players are constantly presented with new options, platforms, and gadgets.
When it comes to the near future, we can only sit back and wait with eagerness to see what new trends in the online gaming industry are ahead of us.
Disclosure: If we like a product or service, we might refer them to our readers via an affiliate link, which means we may receive a referral commission from the sale if you buy the product that we recommended, read more about that in our affiliate disclosure.