Google Hangouts Meet – How to Setup and Use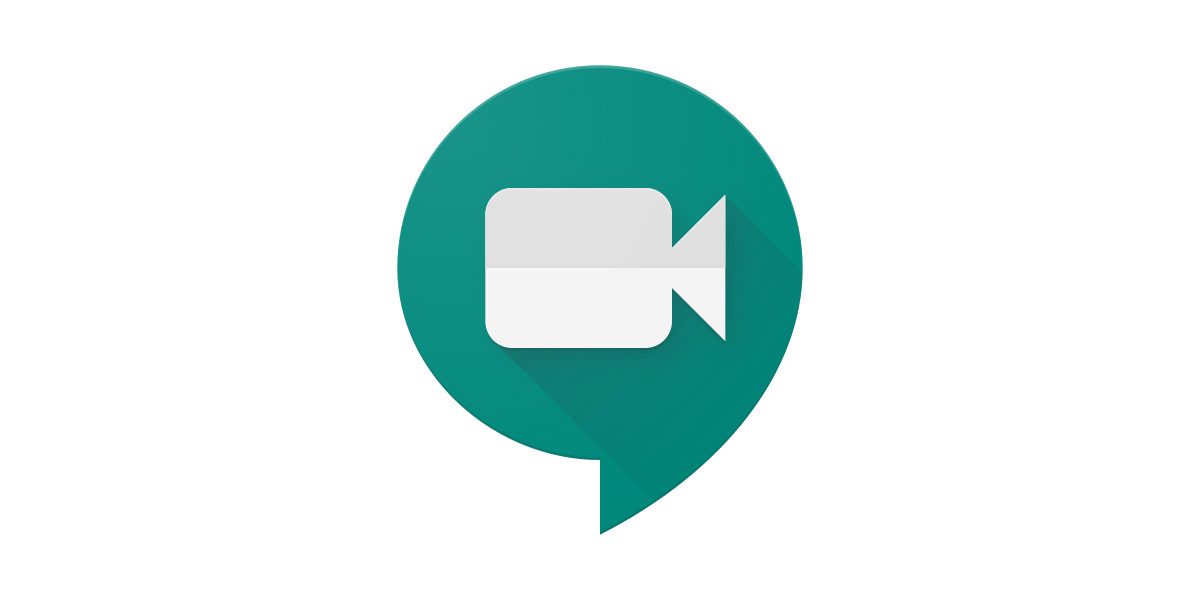 Growing your business from a remote distance is possible with Google Hangouts Meet. It works virtually and lets you connect and collaborate with a group of people at the same time. To know more information about Google Hangouts Meet in detail, you can get into the section below.
What is Google Hangouts Meet?
Starting a video meeting is simple and straightforward with Google Hangouts Meet aka Meet. It is designed for business users to connect with team members from anywhere. Using Hangouts Meet, you can start a video call to communicate with a group of people over face-to-face. All you need to do is to set up a meeting and share a link to teammates, customers, or clients. You can make high definition video or audio meetings with up to 250 members G Suite Enterprise Edition. Additionally, Meet users can share the meeting with a maximum of 100000 viewers. It is designed for every kind of business, and anyone can join meeting with Calendar event or email invite.
Hangouts Meet provides international dial-in numbers support to any meeting for the team member. By default, Hangouts Meet is included with G Suite and G Suite for Education. So, those using G Suite can use Hangouts Meet to conduct seminars, meetings, and more. Hangouts Meet is the best video conferencing tool to support screen sharing. It includes sharing your PC screen or an app to someone, not in your organisation. Hangouts Meet records the meeting and those unable to join the meeting can watch the meet later. With the integration of Google speech-to-text technology provides real-time captions while on a video conference.
Note: Currently those paid users of G Suite can create Google Meet appointments. The consumer Google account users can join appointments when invited.
How to Signup/Login?
To access all the key features of Google Hangouts Meet, you should have an account. The section below covers information about how to sign up and log in to Google Hangouts Meet.
With a Google account, Google Hangouts Meet supports only attending the meeting. In order to create video meetings, you should primarily sign up for G Suite account.
Note: Google Hangouts Meet don't require a special sign up procedure. You can directly login if you have a G Suite account.
(1). Launch Google Hangouts Meet app or visit https://meet.google.com/ on the browser.
(2). Choose G Suite account if you have multiple accounts logged into your device. Else type in the account details. Click Next.
(3). Wait for the account to get linked with Google Hangouts Meet. With this, you can start using Meet on your device.
How to Download?
Google has developed Hangouts Meet to be a multi-platform service. So, you can access it on the following devices.
Google Meet is available as a standalone app for the mobile platform. So, the Android and iOS users can get Google Hangouts Meet from Play Store and App Store respectively.
If you are using it on desktop or laptop, then visit https://meet.google.com/ using your browse. Use your G Suite account details to start using Hangouts Meet on PC.
G Suite offers 14-days free trail.
Basic costs $6/month (meet with 25 people)
Business costs $12/month/user (meet 50 people)
Enterprise is $25/month/user (meet 100 people)
How to Setup Google Hangouts Meet?
Google Hangouts Meet is simple to setup, and you need not do any complex procedure. With G Suite account, you don't have to carry out any setup procedure. With a calendar invite, anyone can join a meeting without requiring a G Suite account.
(1). Launch Google Hangouts Meet app or visit its official page on the web.
(2). On the Welcome page, click on Continue button.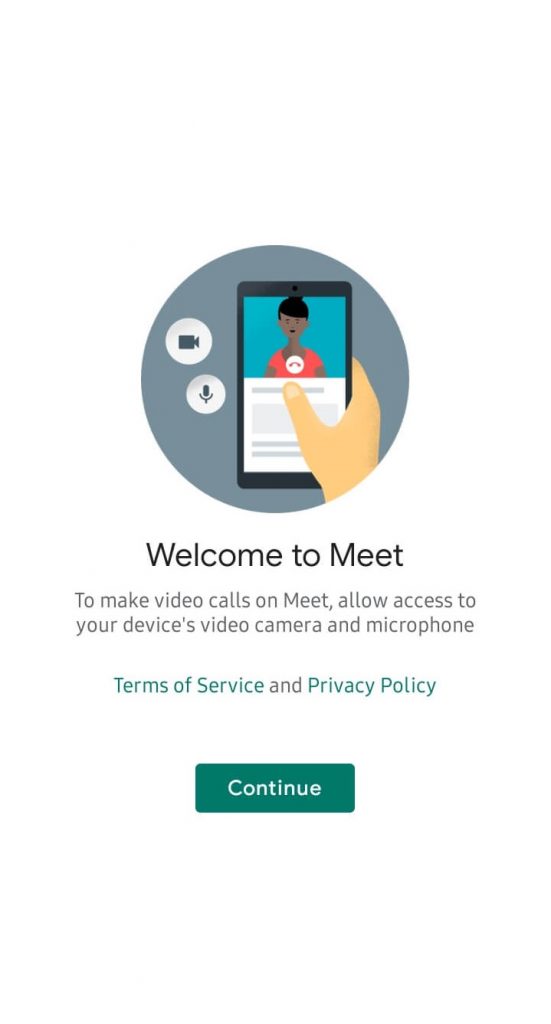 (3). On the prompt, tap on Allow option to let Meet to take pictures and record video.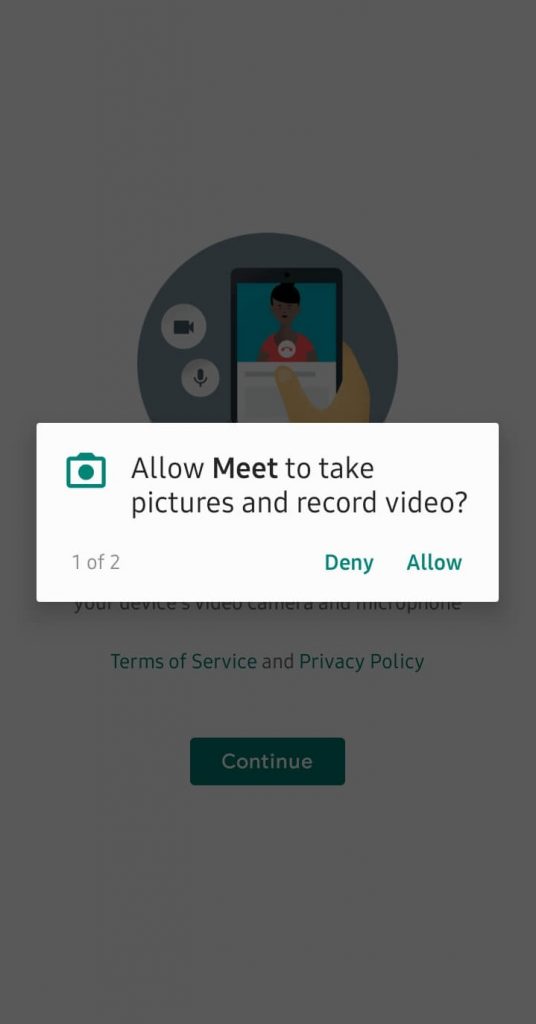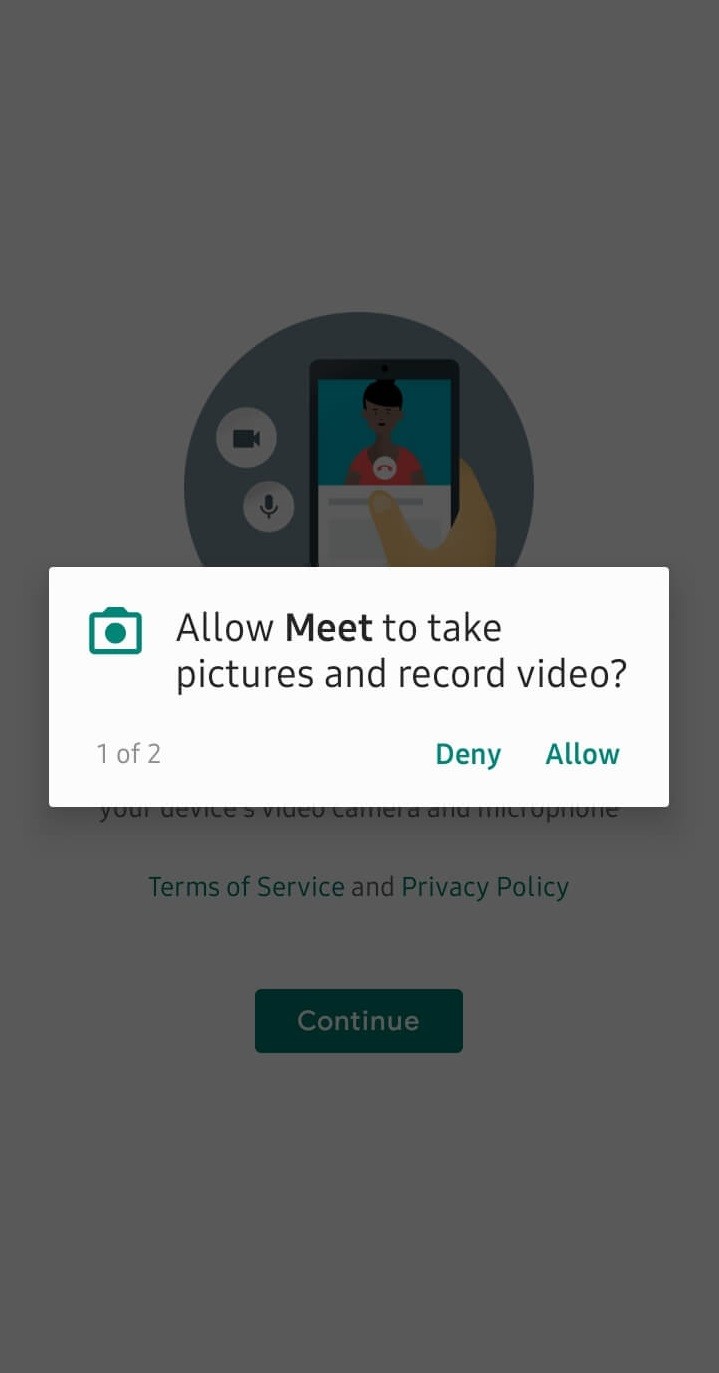 (4). Select Allow option to allow Meet record the audio.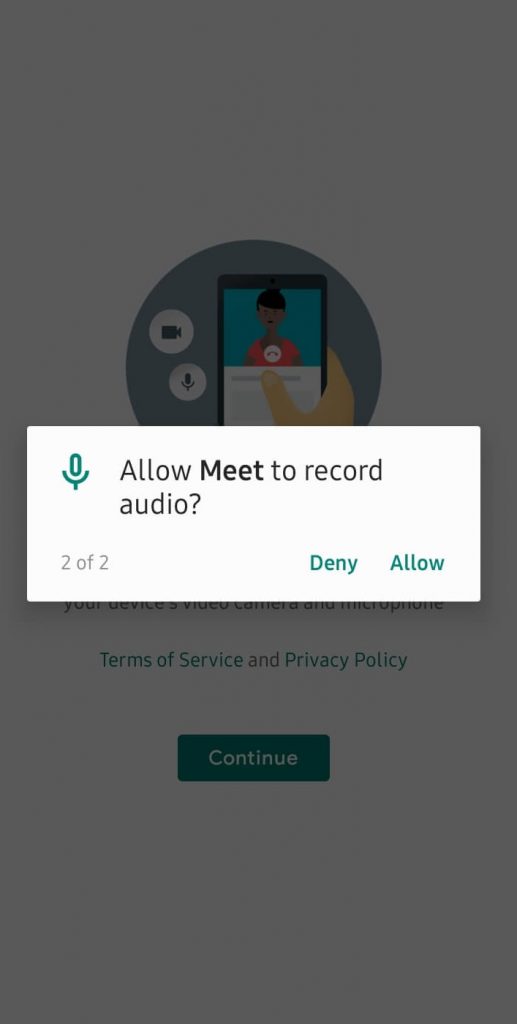 (5). If you have a Google Account, then Hangouts Meet prompts you that you can only join meeting. To proceed, click on Understood.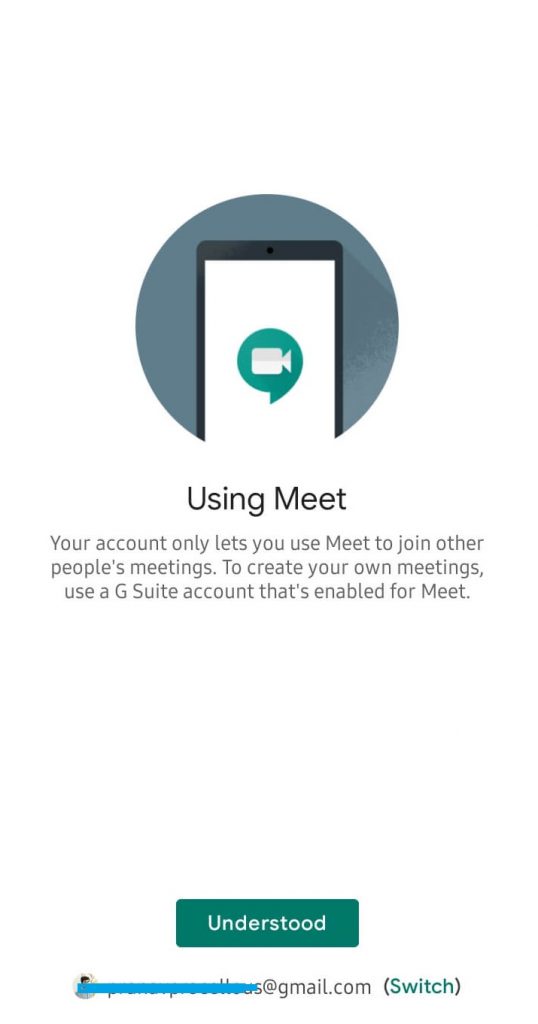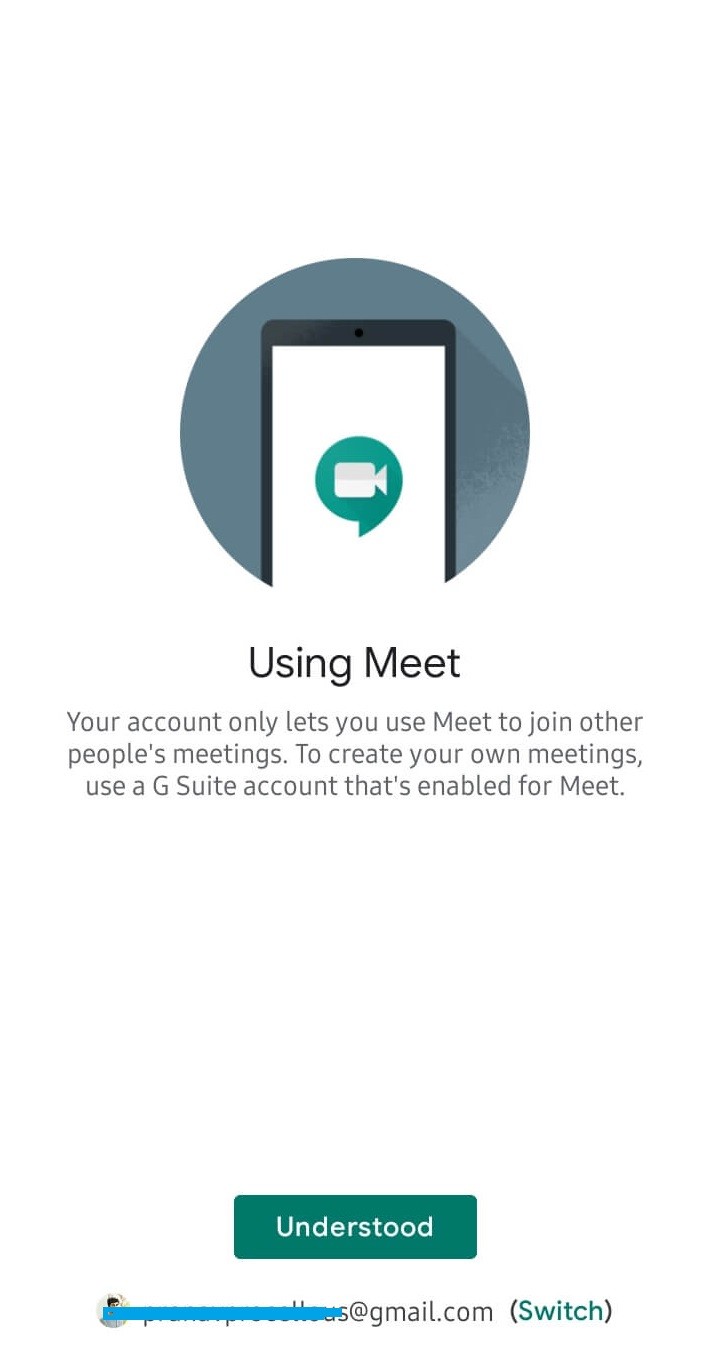 Note: If you want to use the G Suite account, then click on Switch option and enter the details of G Suite account.
How to Use Google Hangouts Meet?
The interface of Hangouts Meet is designed to be user-friendly. With a G Suite account, anyone can create a meet with ease and let anyone join the meeting.
How to create a Meet?
Note: If you are an administrator of a business or seminar, then sign into your G Suite account to create a video call.
The steps given below will let you create a meet using Google Hangouts Meet on PC.
(1). Launch Hangouts Meet on your or desktop PC.
(2). Tap on Join or start a meeting option.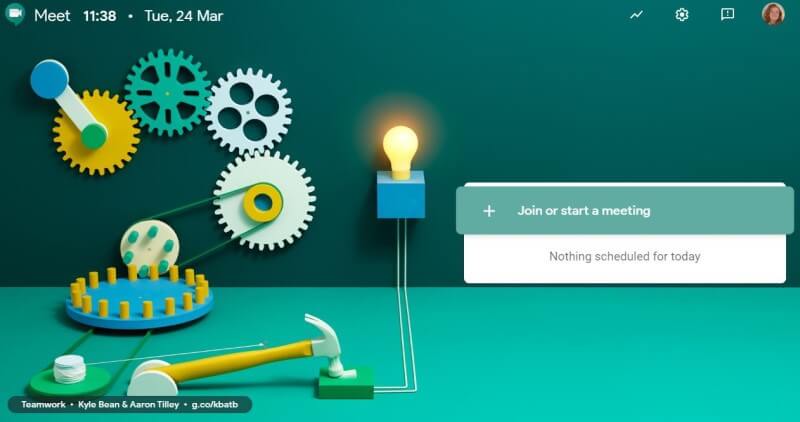 (3). To start a meeting, provide a name or leave it blank (optionally). Click on Continue.
Tip ! Choose a name that your team members in your organizations can identify instantly.
(4). Tap on Join now option to proceed further.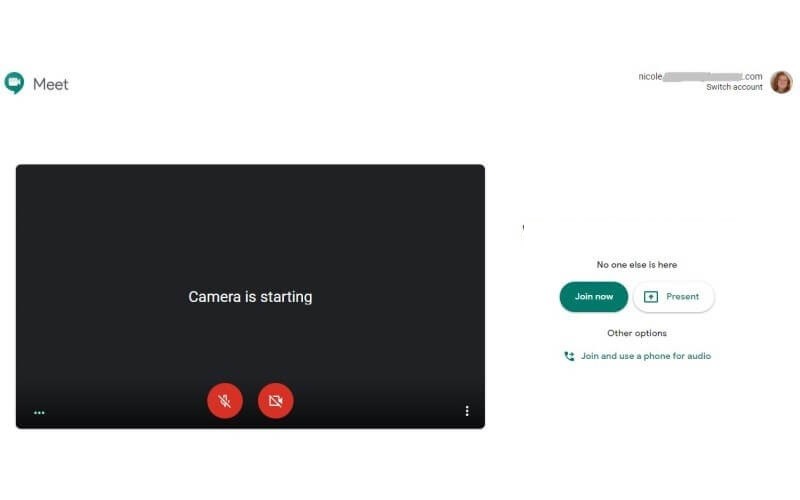 (5). To add someone to a meet, select Copy joining info or Add People icon.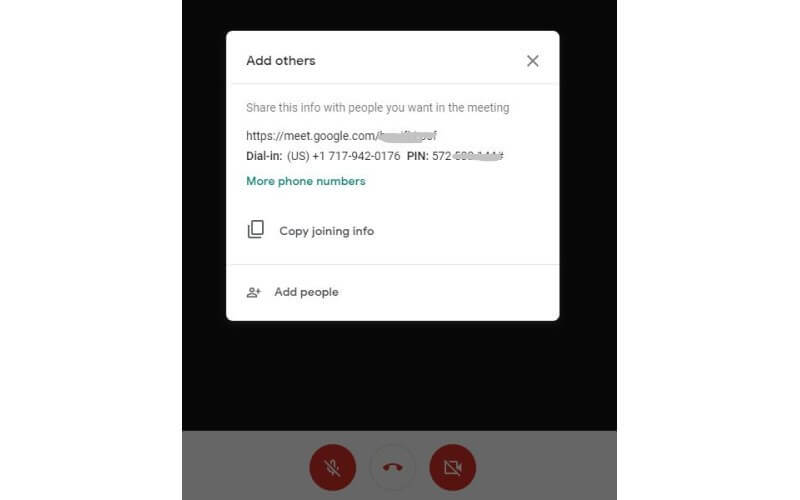 Note: By choosing, Copy joining info option, you can copy and paste the meeting details to email or other app. If you have selected Add People icon, then choose a name under Invite section. Click on Send invite. Otherwise, navigate to Call section and enter phone number to click on Call.
To create a meet using Google Hangouts Meet using Android/iOS device,
(1). Open Google Hangouts Meet app on your Android/iOS device.
(2). Click "+ New meeting" option.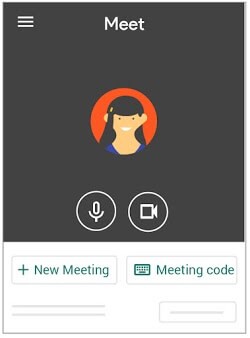 (3). Tap on Meeting Code and enter a meeting code or nick name (optional)
(4). Finally, click on Join meeting option.
How to Join a Meet?
It is easy to join a meeting that takes place over Google Hangouts Meet. Here is how to join a meeting.
(1). Open the Google Hangouts Meet app on your phone or launch it on web using https://meet.google.com/.
(2). Click on Use a meeting code option.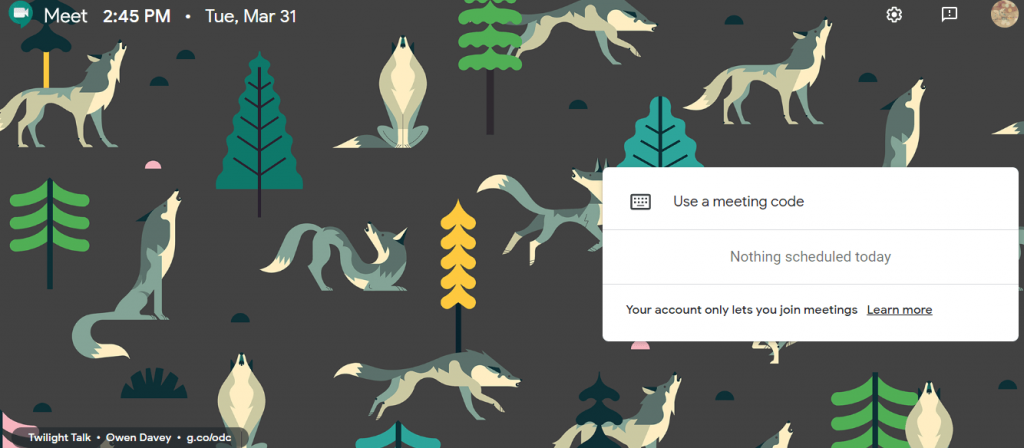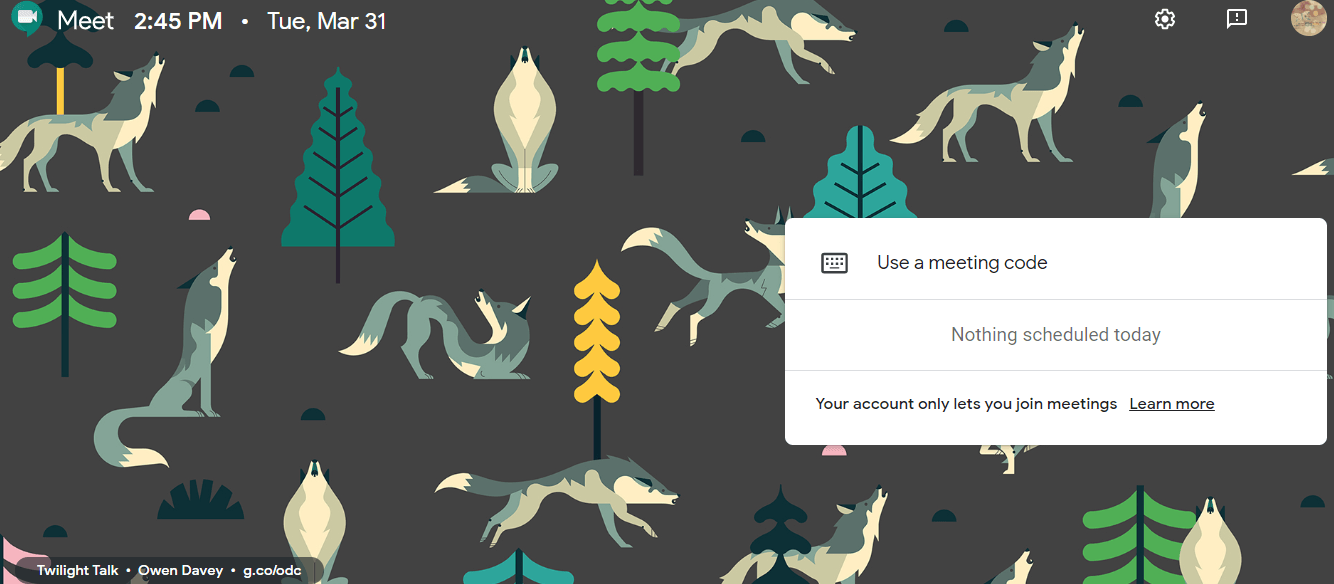 (3). On the next screen, enter the meeting ID and click on Continue button.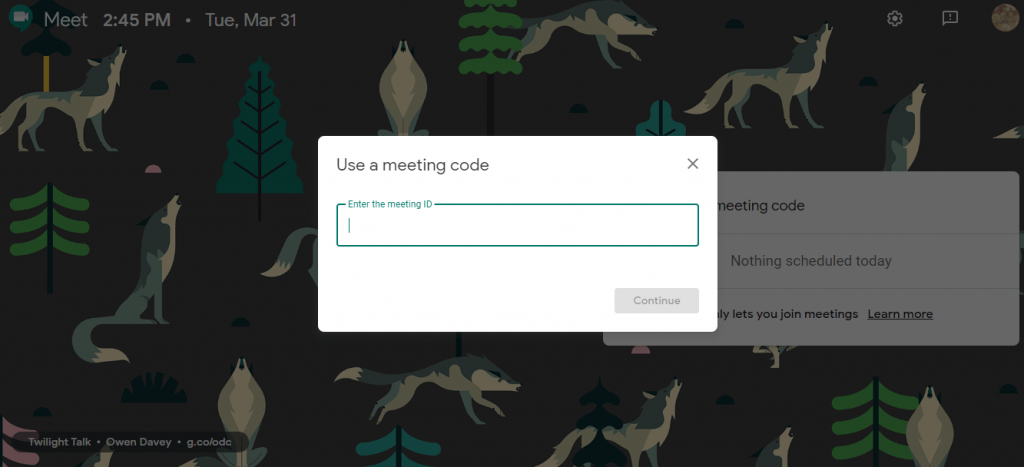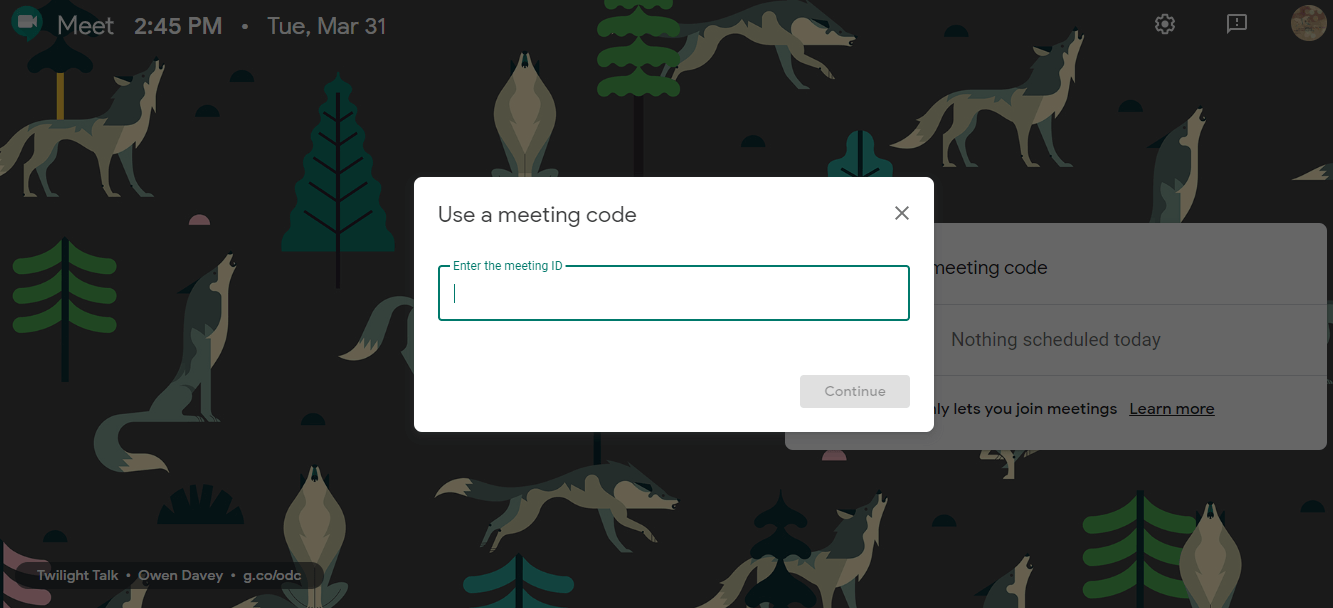 How to Schedule a Meet?
Scheduling a meeting on Google Hangouts Meet is easy and simple if you use Google Calendar.
(1). Launch Google Calendar and login to your Google account.
(2). Select Create at the top left corner.
(3). Choose to add a meeting name on the pop-up.
(4). Add a meeting time and click on More options.
(5). Click on Add Conferencing option.
(6). From the pull down menu select Hangouts Meet.
(7). Under Add Guests, click on Add invitees.
(8). Select Save option to save the changes.
(9). Choose Send option to send the invitations.
How to Record on Google Hangouts Meet?
Currently, the recording feature is available only for the desktop users of Meet. Make sure you have a G Suite Enterprise or G Suite Enterprise for Education editions to record a video meeting.
Note: The team memebers can record video meetings only if the adminstrator enables it.
(1). Go to https://meet.google.com using your web browser.
(2). Select Start or Join a meeting.
(3). Click on More option (three vertical dots) to choose Record meeting.
(4). The recording will start shortly and other participants will get notified when recording gets starts and stops.
(5). If you wish to stop recording, tap on More > choose Stop recording option.
(6). Finally, click on Stop recording to verify it.
(7). The recording file will be generated and gets saved on organizer storage. Also, an email with the recording link will be sent to the conductor of the meeting and to the one who started the recording.
Alternatives of Google Hangouts Meet
The following tools will help you with a virtual meeting just like Hangouts Meet.
GoToMeeting
Start a video conferencing and organize a meeting, discussion or anything more remotely using GoToMeeting. It is one of the best Hangouts Meet alternative to try on any device. You can instantly join a session without signing up and host meetings for free. It can be used to share your full device screen with anyone connected in the virtual meeting.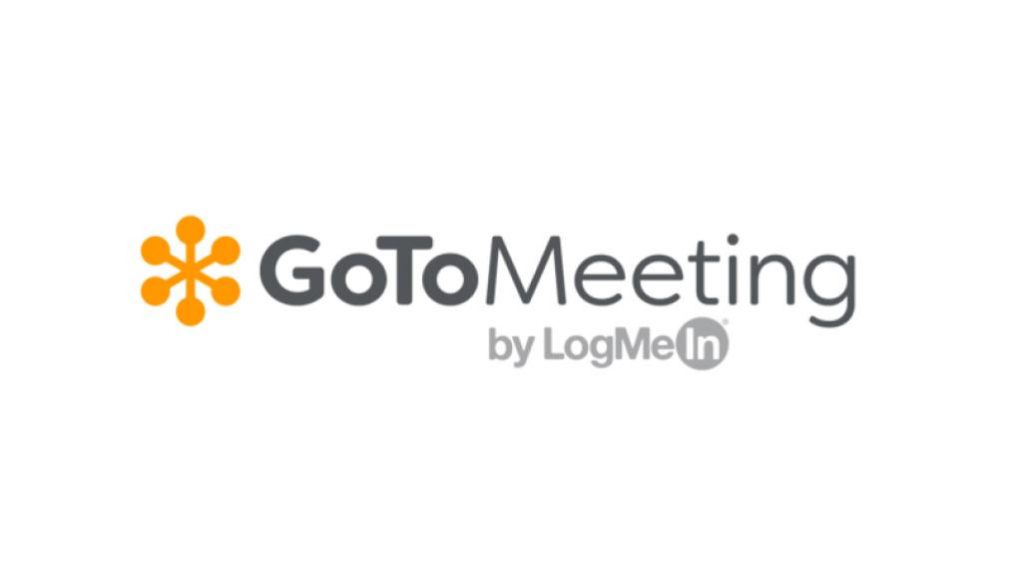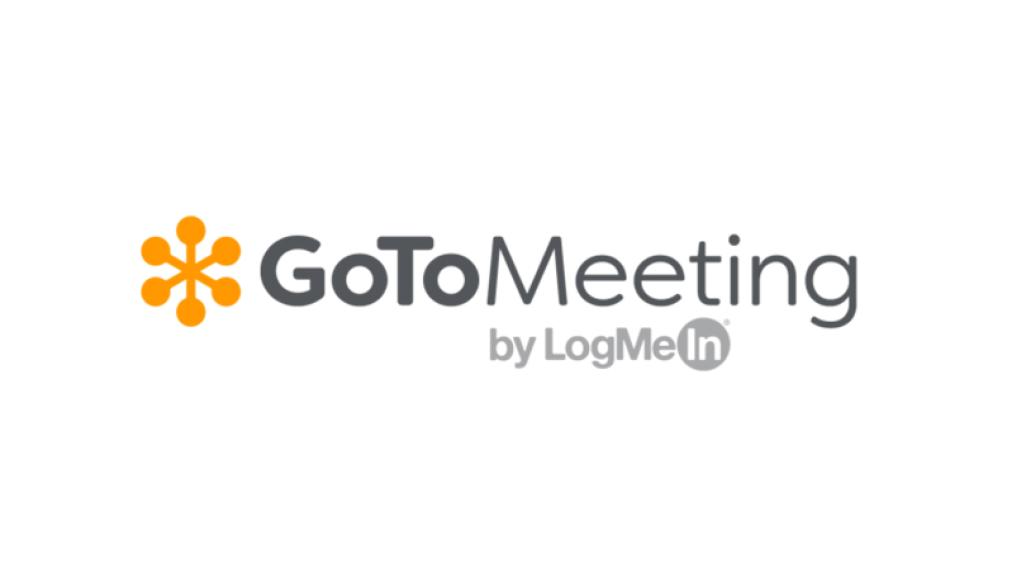 Read more about GoToMeeting.
Zoom Cloud Meetings
With ZOOM Cloud Meetings, you can start or join a 100 person meeting over video conferencing. It is known for high-quality video conferencing over face-to-face video calls. With ZOOM, you can share instant messages, photos, and audio files. It supports sharing the screen with the teammates with ease. It supports screen sharing and screen recording features in addition to video conferencing.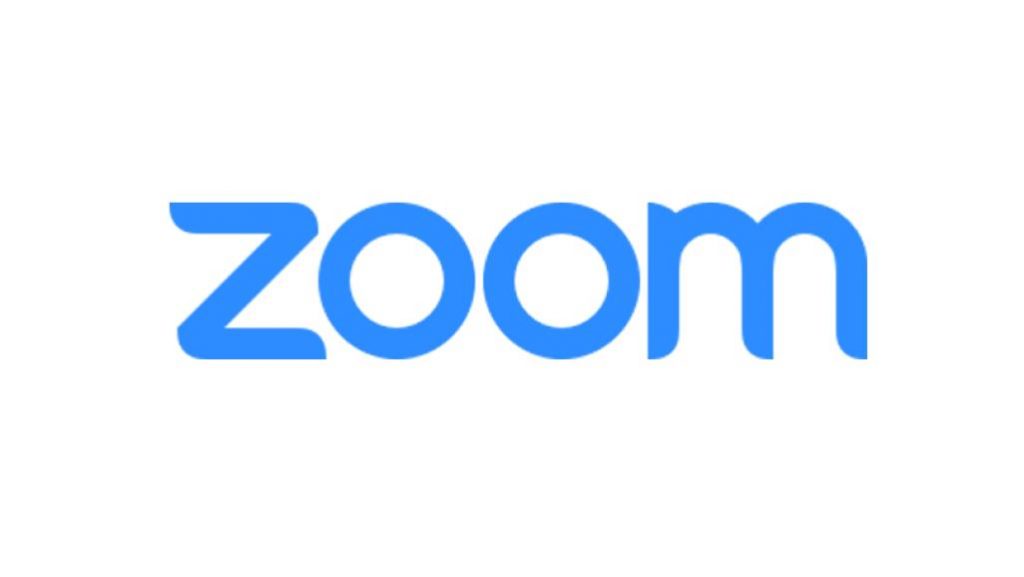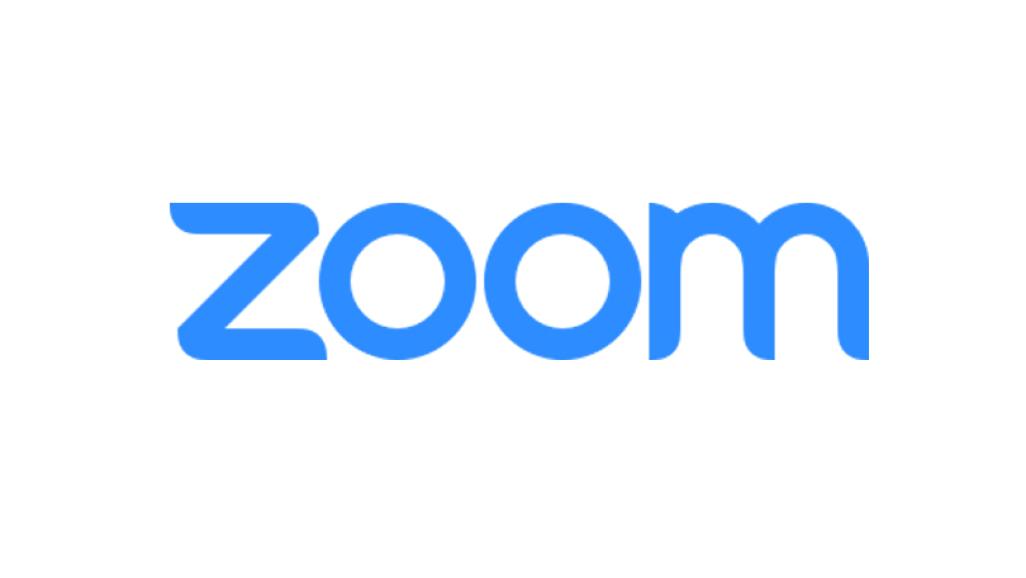 Read more Zoom Cloud Meetings.
Cisco Webex Meetings
You may conduct productive meetings remotely from anywhere using Cisco Webex Meetings. It is a better replacement of Google Hangouts Meet to engage in video conferencing. With this tool, you can join a meeting or host a meeting, event or discussions on the go.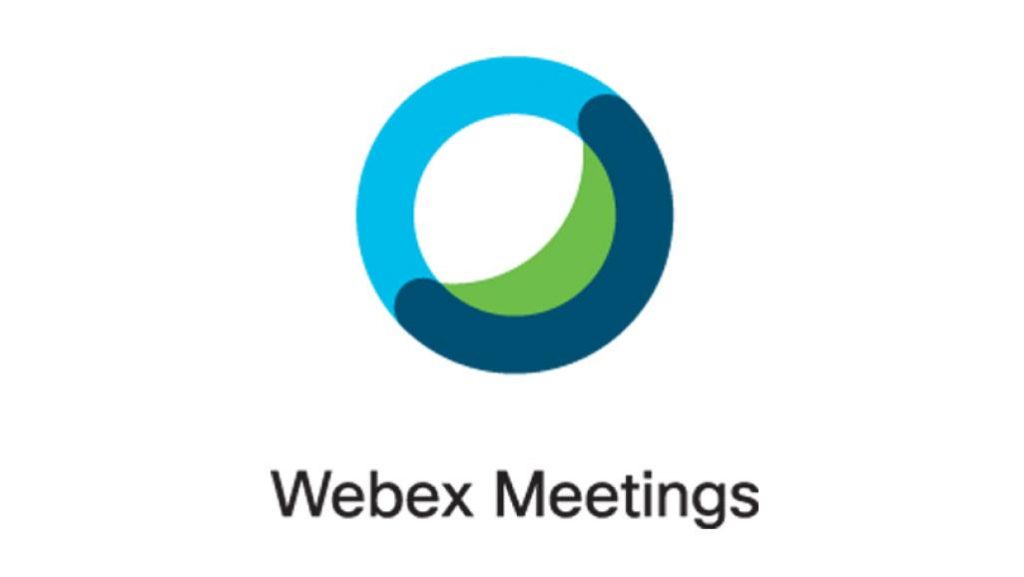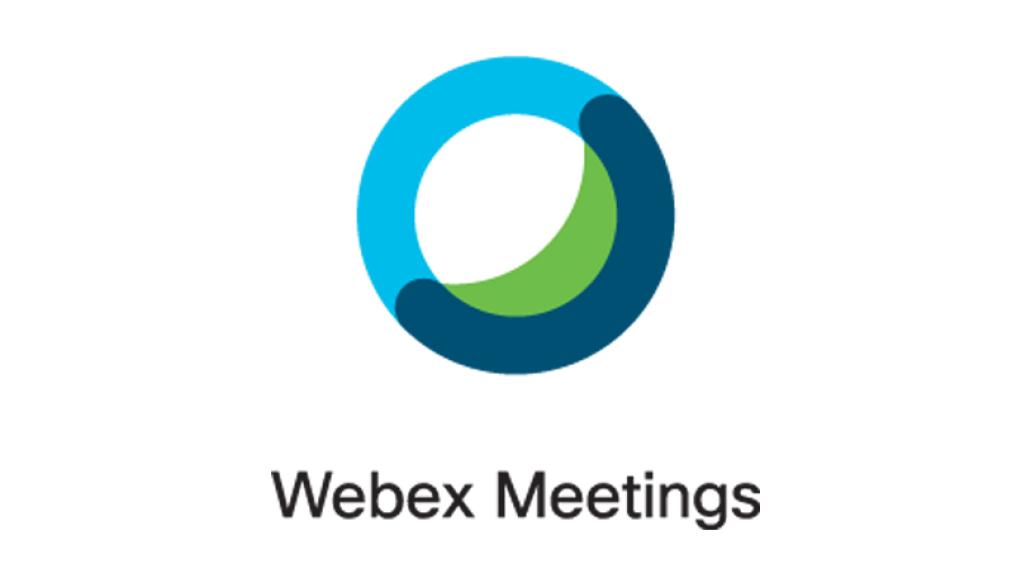 Read more Cisco Webex Meetings.
Conclusion
Google Hangouts Meet is lightweight and has user-friendly interface. So, connection multiple users over video calls are a breeze. Meeting people and teams virtually is made easy with this Hangouts Meet. Besides video conferencing, you can also share your screen effortlessly over call. With Meet, you can get involved in collaborating with team during a video meeting. With Google Hangouts Meet, you will get real-time interaction in the most affordable rate.
Thank you for visiting techfollows.com. For further queries and feedback related to Hangouts meet, make use of the comments section. Follow us on Facebook and Twitter to stay connected with us.
Disclosure: If we like a product or service, we might refer them to our readers via an affiliate link, which means we may receive a referral commission from the sale if you buy the product that we recommended, read more about that in our affiliate disclosure.