How to Add Private Channels to Roku [Best Channels]
Roku has got its own dedicated store called Roku Channel Store, from where you can add streaming channels to the device. Within the store, you can find all kinds of channels that you want. What to do if you need more channels? Roku has support for that too. There are channels hidden in the Roku Channel Store as private channels, and they can be added to your device by providing a code. The possible ways to add private channels to your Roku are discussed further in this article.
Roku Private Channels – What do They Actually Mean?
There are various channels that aren't available publically on the Roku Channel Store. Here are some reasons for a channel to be private.
If a channel is not official or not certified, then it will be called a private channel.
Those channels that have inappropriate contents or illegal or copyright contents.
They will not be available publicly for addition but needed to be added manually using the channel code or invitation.
The channel is not ready to be released and still in its beta version.
How to Add Private Channels to Roku
You can't add these channels directly on the device. You need to login into your Roku account on the browser to add them.
1. On your computer or smartphone, open a web browser and visit the Roku official site.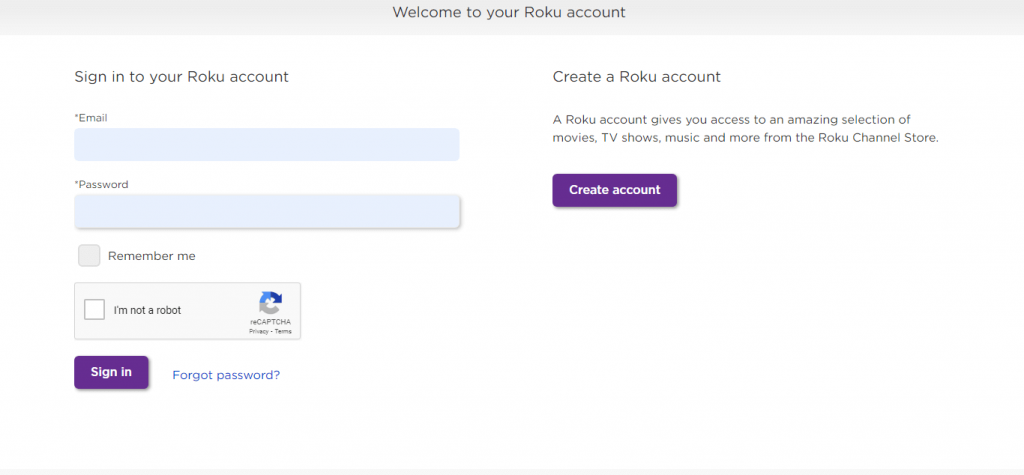 2. Sign-in with the account credentials that you used to set up your Roku device.
3. Go to the My Accounts page and then hover to the Manage Account menu option.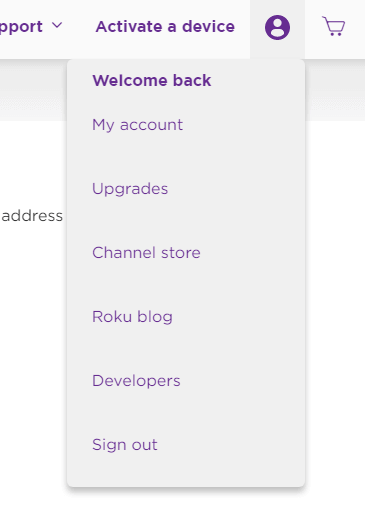 4. Then choose Add Channel with a code option. Here code refers to the invitation code or a channel access code.


5. In the provided text field, enter the code of the private channel you would like to add to your Roku.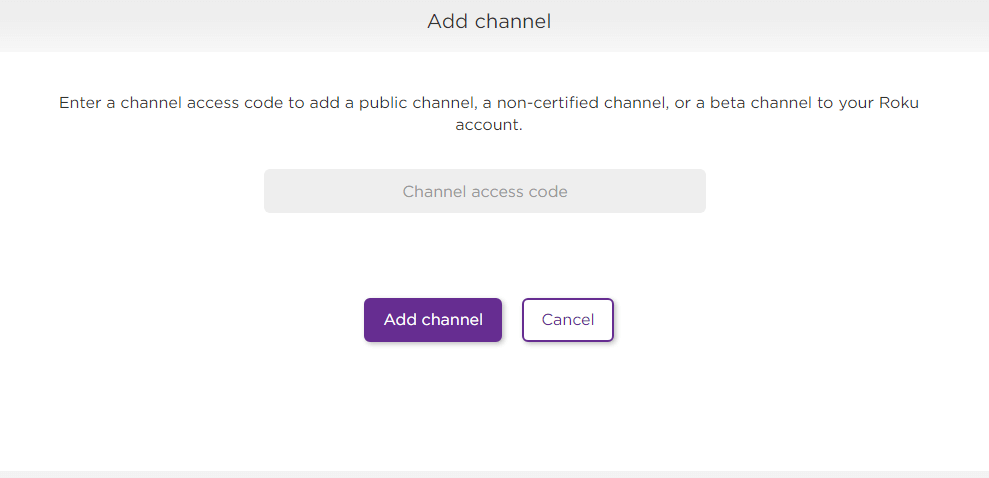 6. Then, click on the Add Channel.
7. Now, click on Yes, Add Channel to confirm the addition on the confirmation screen.
Now, wait until 24 hours. After that, you can find the channel on your Roku device if the necessary conditions are fulfilled. There is a way to check the progress and add the channel immediately. On your Roku device go to Settings > System > System Update > Check Now. You have to remember a fact it will also update the Roku firmware if one is available.
Non-Certified Channels and Consequences
Adding private channel to Roku has its own consequences in various terms.
If the channel is not abiding by Roku's channel terms and conditions, they might be removed at any time.
The channel shouldn't contain any illegal or copyrighted contents.
Roku will not test or review non-certified channels.
The non-certified channel will be acknowledged if the channel has any violent or inappropriate channels for a certain audience group.
If Roku identifies that kind of channel, then it may be removed even without any prior notice.
Moreover, your account may be blocked from adding any more private or non-certified channels.
Best Private Channels to Add on Roku
Here are the few private channels along with the access or invite code.
RokuCast – CL9D5D
The Internet Archives – NMJS5
TVQues – tvque
Relax TV – vrqhq
KOOL_TV – (koolTVmn)
Creature Cast – nowherebullet
Dailymotion – Dailymotion
Weather Radar – radar
Roku Movies – ZB34AC
Unofficial Twitch – Twitch TV
FilmOn – NMEVA
Picasa 2 – PICASA2
FreeJack TV – YQJ5B
VideoPodcast Player – vodcast
Clikia – clikialive
Amteurlogic – ALOGIC
Crackle – CRACKLE
The Nowhere TV – H9DWC
Nowhere Tweet -V8MRS
Ace TV – acetv
Viki – vikigobaltv
Fox Business – FOXBIZ
The Odeo Theater – odeon
Video Games – T6PH2V
RokuMovies – zb34ac
DISHWorld – DISHWorld
Nowhere Vine – nowherevine
iTunes Podcast Channel – ITPC
LodeRunner – LodeRunnerPreview
EuroRoku – 296XJKP
PNR Networks – pnrnetworks
Suntrix – synctrixbeta
Super Stalker – STBEMU
Space Time Free – CN6MRTG
Wilderness Channel – fl821095
Great Chefs – greatchefs
You can add private channels to Roku in the above-mentioned ways. Make sure that you wouldn't violate any rules and regulations by the Roku. If you have queries, ask us in the comment section below.
Thank you for visiting techfollows.com. Follow our Facebook and Twitter guides to get updates about our tutorials.
Disclosure: If we like a product or service, we might refer them to our readers via an affiliate link, which means we may receive a referral commission from the sale if you buy the product that we recommended, read more about that in our affiliate disclosure.