AstrillVPN Review – Is it Worth the Price?

AstrillVPN is a popular VPN worldwide and offers a variety of other useful features. AstrillVPN is based in Seychelles, which is a very privacy-friendly country. We'll go over an in-depth review of AstrillVPN and how it's packed with a wide range of features that will benefit users who are concerned about their data privacy and security.
You can use AstrillVPN to surf anonymously and browse the web securely, protecting your data from hackers. AstrillVPN also hosts a network of powerful servers, and you can use it to connect to 5 devices simultaneously.
AstrillVPN prides itself on not using heavy marketing schemes to promote itself. They want to offer the most effective services by investing in their hardware, their software and their human resources.
So without further ado, let's get into the features and specifics and what makes AstrillVPN stand out from the market.
Quick Overview
Price: Starting from $15.00
Operating systems: Windows, Mac, iOS, Android, Linux
VPN Protocols: OpenVPN, Wireguard, StealthVPN
Torrenting Options: uTorrent, BitTorrent
Payment options: Credit/Debit card, PayPal
Servers: 3000+ servers in 50+ countries
Jurisdiction: Seychelles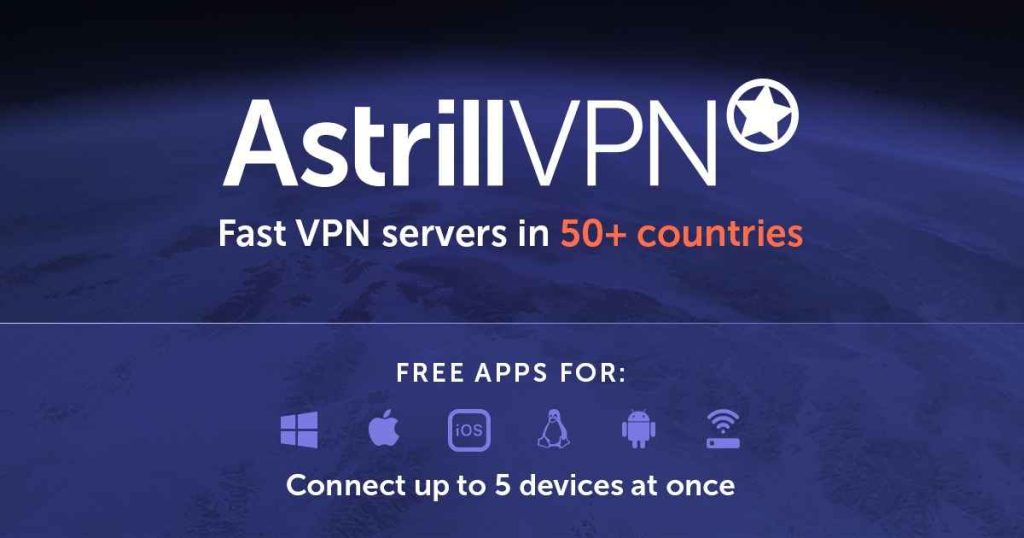 AstrillVPN Features
AstrillVPN offers a bunch of cool features which really enhance the user experience. You have almost everything you could need to meet the needs that you have from a VPN provider. Let's go over all of the features that make AstrillVPN shine.
Kill Switch
AstrillVPN is extremely reliable, but even then, there are some issues that are beyond everyone's control and can cause the VPN to drop or disconnect. In such a case, AstrillVPN automatically prevents traffic from coming in and from your device. Your IP address and other confidential information remain private even if the VPN disconnects. You end up retaining your anonymity.
Smart Mode
When you're using a VPN, the provider assigns you a foreign IP address so that you can access censored content, among other things. This slows down your internet connection. Governments and other institutions have become clever in figuring out that you're using a VPN and can shut down those IP addresses.
Smart Mode enables you to avoid all of that and use the internet without worrying about the government being on your back. AstrillVPN keeps the speed at an optimal level while in Smart Mode. Smart Mode is available on almost all devices (Windows, Mac, iOS, Android, Linux).
App Guard
AstrillVPN's App Guard feature acts as a soft kill switch for applications that you don't want to stay on when the VPN is disconnected. To avail of this feature, you have to go to the App Guard setting and add the application that you want to get disabled if the VPN has dropped.
VPN Sharing
The VPN sharing feature allows you to share the VPN from your computer to all of the other devices that you own. This helps protect all of your other devices, which include your other laptops, PC, smartphones, tablets and gaming consoles. Regardless of which device you're on, AstrillVPN keeps your data safe and secure and hides your IP addresses.
Application Filter
Some users prefer to use VPN for certain applications only and not for browsing. Others prefer to tunnel everything and may want to exclude certain applications from VPN. This is what AstrillVPN calls its split tunnelling feature. The Application filter feature is only available on Android, Windows, Mac and Linux.
Speed – How Fast Is AstrillVPN?
VPN speeds are a tough cookie to crack since they depend on a wide range of factors. Using a VPN does lower the connection slightly, but it shouldn't be to the point that it starts interfering with your browsing activity. If we talk about speed, then AstrillVPN hits the mark. At its fastest, its download speed can go up to 80Mbps.
AstrillVPN also has excellent speed when it comes to long-distance servers. When using the Wireguard Protocol, AstrillVPN maintains a really fast speed when it's connected to local servers. The speed also doesn't fluctuate randomly and unpredictably.
Servers & Locations
AstrillVPN has a diverse network of servers from all across the globe. Their servers span 56 countries, with the main emphasis being on Asian countries. AstrillVPN might have a modest number of servers, but it makes up for it with its excellent coverage and the fact that it has servers available in countries with really high censorship.
Another thing to note is that, unlike other VPNs, it has a lot of servers in Asia. AstrillVPN covers 13 countries in Asia and over 34 countries in Europe. It has limited availability in Africa.
Privacy Tools
AstrillVPN has some extra useful tools available to safeguard your privacy. Let's have a look at them.
DNS Leak Test
AstrillVPN helps you prevent a DNS or IP address leak. By using its DNS Leak Test Tool, you can easily check whether your IP address has leaked or not. Astrill provides an easy way to prevent a DNS leak and hide your IP address. Communication between your device and DNS remains encrypted, and do they keep a record of your browsing activities, ensuring you get the best protection?
Password Leak Test
Thousands of websites get hacked on a daily basis, and confidential customer data gets stolen. Passwords also get stolen because many companies place encryption on their customer's passwords. AstrillVPN has a database of over 500M leaked passwords through which you can check whether your password has ever been leaked or not.
IPv6 Leak Test
Because IPv6 has limited availability, most VPN providers are unable to direct the IPv6 traffic through a VPN tunnel. IPv6 leaks don't let you remain anonymous and can give hackers and other third parties the ability to track all of your browsing activities.
AstrillVPN has an IPv6 Leak Protection feature that disables IPv6 traffic when you're connected to VPN, which ensures that your internet traffic doesn't leak over your regular connection while connected to the VPN. This is an optional feature and can be disabled if need be.
Port Scan
AstrillVPN provides a simple tool through which you can test if any given port is open or closed on your IP.
Protocols
AstrillVPN offers impressive security packages. It makes use of AES-256 encryption with the option of using four different tunnelling protocols, the most widely known being OpenVPN and Wireguard.
OpenVPN is the industry standard VPN protocol that is recommended by all VPN providers. It's one of the most popular protocols out there, and rightfully so. It offers a wide variety of wonderful features. It comes packed with speed, security and reliability, making it the go-to protocol for most VPN users.
Wireguard has established itself as one of the fastest VPN protocols. It is open source, extremely fast and has limited data consumption. AstrillVPN's tunnelling protocols cover most use cases and offer a seamless user experience.
Plans & Pricing
AstrillVPN has three payment plans, which also include a VIP plan packed with additional features. They have plans that range from one month to one year and then two years. You also have various payment options available: credit/debit card, PayPal, Union Pay, AliPay, as well as cryptocurrencies.
AstrillVPN provides the same features in all of its payment plans and charges an additional fee if you want your own dedicated IP address. The VIP plan offers additional advanced features to make sure you have the best experience possible.
These are the current three major pricing plans:
1 Month Plan: $30.00 per month
1-Year Plan: $15.00 per month
2-Year Plan: $12.50 per month
Customer Service
AstrillVPN has incredible customer service. They are knowledgeable and respond to customer queries in a timely manner. They have multiple online resources like tutorials and even an Astrill Wiki with useful information to help customers in case they need any assistance. They have various modes through which you can seek help, and these include 24/7 live chat and email.
They also have FAQs which answer the customer's basic queries; however, if you need an in-depth guide, then you'll have to reach out to the customer support team so that they may further assist you.
Conclusion – Is AstrillVPN worth it?
AstrillVPN is one of the best VPNs out there if you're looking to bypass countries that have really heavy censorship.
AstrillVPN works wonderfully in China, with over a 100% success rate. It works well with torrenting, and you can have easy access to Netflix (US) so you can binge all your favourite TV shows.
They have industry-standard security features, fast speed and excellent customer service. If all of these things check out, then AstrillVPN is probably "the one" for you.
Disclosure: If we like a product or service, we might refer them to our readers via an affiliate link, which means we may receive a referral commission from the sale if you buy the product that we recommended, read more about that in our affiliate disclosure.