How to Logout From WhatsApp Account on Android/ iOS/ Web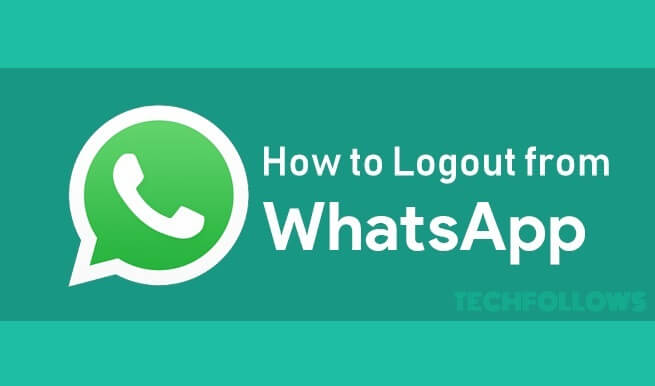 The Whatsapp has continuously including a lot of features for its users to keep up the competition with its rivals. With the frequent updates, the developers are keen on providing the best features for the users. Right from its initial stage, the Whatsapp has transformed a lot but the makers had not included one particular feature till date which is the logout feature. Yes, you cannot find a logout button on your Whatsapp on Android or iOS rather you can't logout from your Whatsapp account easily. Let us see in this article how to log out Whatsapp account easily.
Whatsapp has the change number feature that lets you change your phone number from one to another and that doesn't make a logout feature. So let us see the possible ways by which you could logout form whatsapp.
How to Logout from Whatsapp on Android
Follow these steps to logout from Whatsapp on an Android mobile or tablet.
#1 Open Settings on your Android mobile.
#2 Go to Apps and open Whatsapp. Now tap on Storage.
#3 Tap on Clear Data / Clear Storage.
#4 Now open Whatsapp. You will see the login screen. Thus you have successfully logged out of your Whatsapp account on Android.
Also read: How to Hide Whatsapp Last Seen on Android and iPhone
How to Logout from Whatsapp on iOS
These steps could help you logout from Whatsapp on an iPhone or iPad.
#1 On your iPhone, long press WhatsApp app.
#2 The apps now begin to float with a X icon on the top left screen of the icon.
#3 Tap on the X icon. You will get a prompt Delete Whatsapp. Click Delete.
Now the Whatsapp is uninstalled on your iPhone / iPad. Go to App store to reinstall Whatsapp where you have to login again.
Also read: How to Block Someone on Whatsapp? [Updated]
How to Logout from Whatsapp on Whatsapp Web
See how to logout from Whatsapp on the Whatsapp web interface. Fortunately you have a logout feature on Whatsapp web.
#1 Go to web.whatsapp.com. Scan and login with the QR code.
#2 On the top, above the conversations, click the three dots menu.
#3 Last on the list, you see a Log out button.
If you have forgot to logout from the Whatsapp Web and the system is out of reach, follow the steps below to logout from that device.
#1 Open Whatsapp on your phone (iPhone / Android)
#2 Go to Settings menu and tap on Whatsapp Web/Desktop.
#3 Under logged in computers, you will see the list of computer in which you have used Whatsapp.
#4 On the bottom, tap on Logout from all Computers to log out from whatsapp on all the computers.
Also see: How to Restore Whatsapp Chat from Local | Google Drive | iCloud Backup
To Conclude
Thus you can easily log out from Whatsapp on any of your mobile devices. Let us expect Whatsapp to include a logout button on whatsapp app in its future updates. But we don't have any clue that Whatsapp would add that in future. Else you could follow these simple steps above to logout.