How to Perform Disk Clone in Windows 10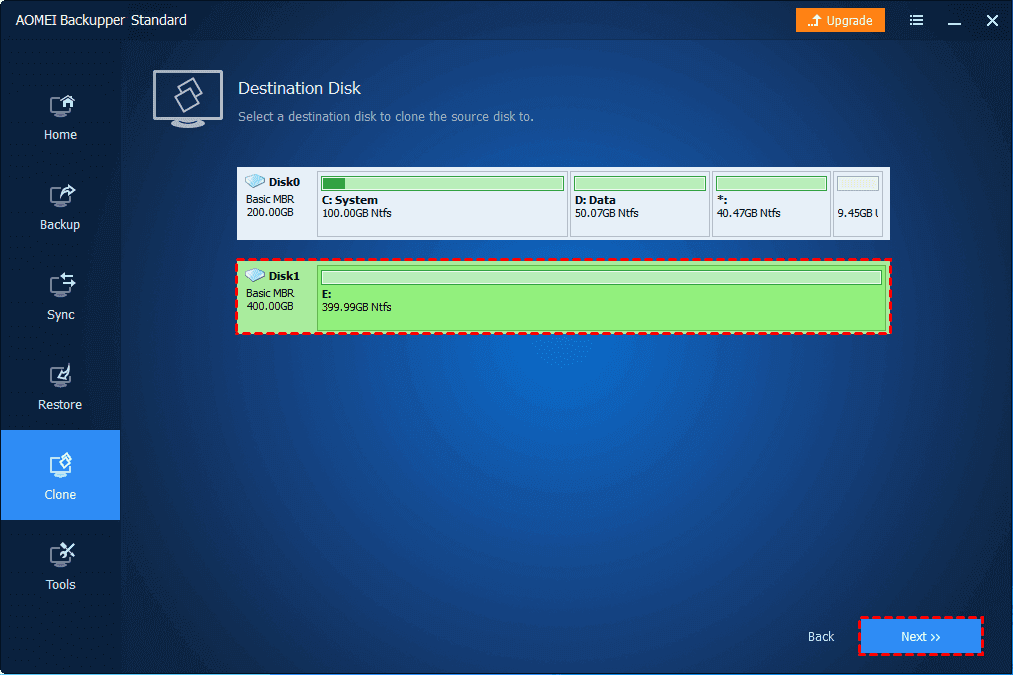 Can I Clone Windows 10 from My Old HDD to My New SSD?
I'm planning to clone a disk in Windows 10, but I don't know about it much. My original disk is 500GB, the new SSD is 250GB, can I clone it to SSD? Which cloning software should I use? I'm pretty clueless so any help would be appreciated.
Why Clone Disk in Windows 10?
The cloning method is very popular in the big data era and here are the main causes for it.
Upgrade hard drive for larger capacity. This usually happens for older computers, used for a few years, and you may receive a low disk space warning that asks you to free up space. But it fills up soon. So you can only choose to clone the disk to a larger disk to resolve it completely.
Boot computer performance. Both HDD and SSD are different disk types for data storage, but they have different advantages. To improve computer performance, SSD is the best option due to its fast reading & writing speed.
Avoid reinstallation. Reinstalling Windows only leaves you a fresh version of the operating system and some preinstalled programs. All the non-preinstalled software or personal data are uninstalled or deleted.
Best Cloning Software for Hard Drive
The cloning software is the core of the disk clone in Windows 10. It helps you migrate the operating system, system files or settings, installed programs, personal data, recover corrupted files, etc on a hard disk to another one. And you can boot from the cloned drive successfully. Thus, you need to select the right hard drive cloning software.
AOMEI Backupper Standard is a good option, which can help you to clone the boot drive in Windows 10 and ensure a secure boot after cloning. And you can enjoy the advantages below during the cloning process:
Intelligent clone: It's the default cloning method for this software, which clone only used sectors on the source disk and copies them to the destination disk. It's especially useful when you want to clone large HDD to smaller SSD.
Sector by sector clone: It's another cloning method. It clones all sectors of a hard drive, even for bad sectors and empty sectors, thereby it's suitable for cloning a system disk with a recovery partition, or if you are worried about a system reserved partition or EFI partition missing.
SSD Alignment: It helps you clone HDD to SSD and align the first partition of them, thereby accelerating the reading and writing speed of SSD.
How to Clone Hard Drive in Windows 10 Step by Step
With the best cloning software for hard drives, you can easily clone disks in Windows 10. First, you need to check the capacity of both HDD to SSD and be sure the SSD can hold all the data on the HDD.
At the same time, checking the disk types of both disks are required, since the free version of AOMEI Backupper only supports cloning all the data disk and MBR system disk to MBR.
Press Win + R to open the Run window. Then, type diskmgmt.msc and hit OK to open disk management.
Then, right-click the HDD you want to clone and select Properties in the pop-up window.
In the Properties window, select the Volume tab and confirm the partition style. It can be MBR (Master Boot Record) or GPT (GUID Partition Table).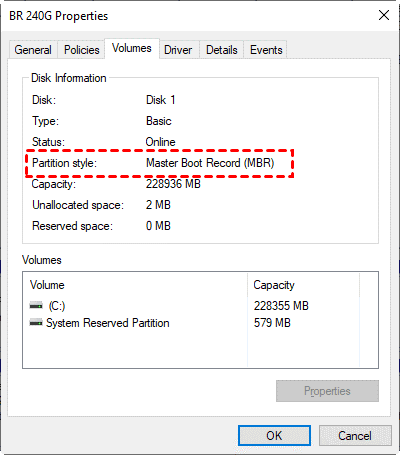 Similarly, check the disk partition style of the SSD. If it is still MBR, you can clone the hard drive in Windows 10 for free.
Then, continue to see below and clone the disk in Windows 10.
Step 1. Download and install the disk clone software for Windows 10 – AOMEI Backupper Standard and connect the new SSD.
Step 2. Run this software and then go to Clone -> Disk Clone.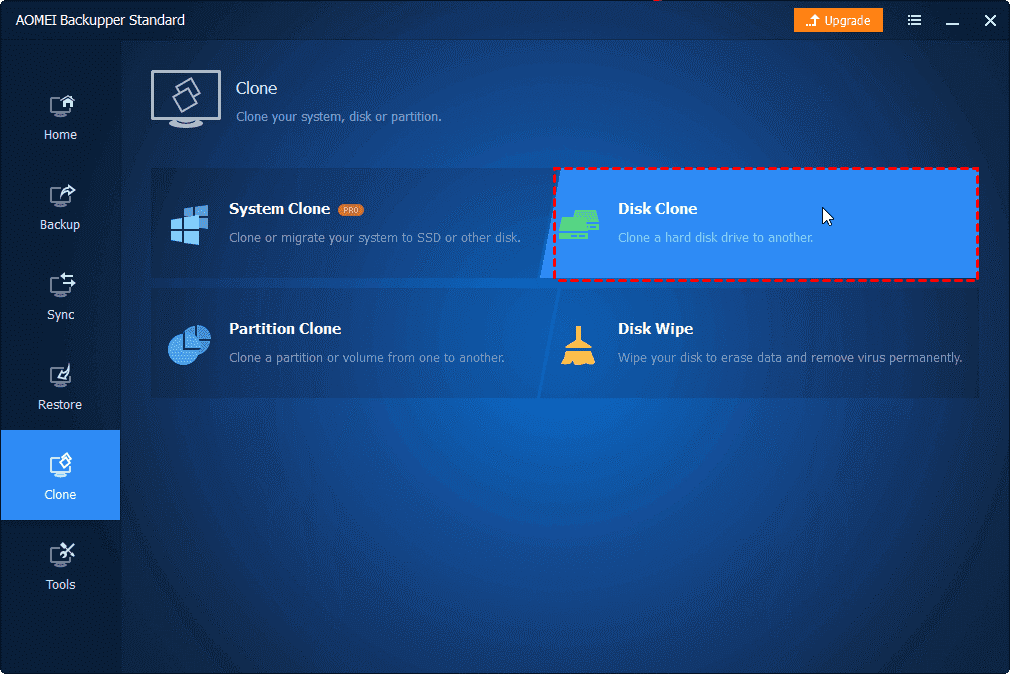 Step 3. Select the old HDD as the source disk and click Next.
Step 4. Choose the new SSD as the destination disk and click Next.
Note: All the data on the destination SSD will be deleted after cloning, if there is any, please backup files to the external hard drive to avoid data loss.
Step 5. Tick SSD Alignment to boost the reading and writing speed of the new SSD. Then, click Start Clone to clone the hard drive in Windows 10.
Tips:
Don't format the old HDD unless you can boot from the new SSD.
Try System Clone if your new SSD is smaller than your old HDD. It's a premium feature on the professional or higher edition.
Summary
You can easily clone disk in Windows 10 as long as you use the best free cloning software for the hard drives – AOMEI Backupper Standard. It's free and easy to use. For cloning, the default method is an intelligent clone, which is useful for cloning larger drives to smaller drives or SSD. And its SSD Alignment helps you avoid SSD slow after cloning.
Disclosure: If we like a product or service, we might refer them to our readers via an affiliate link, which means we may receive a referral commission from the sale if you buy the product that we recommended, read more about that in our affiliate disclosure.