How to Deactivate or Delete Facebook Account | Easy Ways to Quit Facebook
Are you tired of the constant posts and updates from your friends on Facebook? Or do you feel that you are on Facebook most of the time? Or you are very much concerned about your internet privacy? There may be many other reasons, then it's high time to delete Facebook. Don't worry you are not alone, day-by-day the number of people those leave such social media sites is constantly increasing. Let us see in this article how to Deactivate or Delete Facebook Account in simple ways.
Deactivate or Delete Facebook Account? What should you do?
The creators of Facebook doesn't want you to delete your account straight away. You cannot just delete your Facebook account with a click. Facebook lets you deactivate your account first. The reason is if you deactivate your account there may be chances for you to change your mind and you can reactivate your account. In the case of deactivation,
People can still see your timeline
You will be appearing in suggestions and friend lists
Your information like likes, comments and messages remain visible
If you ask, "isn't deactivating the Facebook account enough?" The answer is No. Because deactivating will only temporarily disable the Facebook account and all your data remains untouched with them. To Quit Facebook completely you must delete your Facebook account.
How to Delete Facebook Account?
There are two methods by which you can delete your Fb account. By the first method, your account deletion process starts immediately. The second method is to delete your account later when you are no more.
Method 1: Delete your Account Now
To Delete your Facebook Account permanently go the link https://www.facebook.com/help/delete_account
You will be landed on a page which has three options. (Refer screenshot below)
Click Deactivate account if you want to Deactivate your account temporarily if you are not sure about deleting it permanently. Enter your profile password and confirm deactivation.
Note: You can continue using the Facebook Messenger even after deactivating your Facebook account.
If you are about to delete your Facebook account permanently which you cannot revoke back, Facebook lets you download a copy of your Facebook profile. It contains your images, posts, etc. and you can save it for your reference.
You can use the third feature to manage the apps you owned on Facebook if you are a developer. If you are the only owner of that app, it will also be deleted while deleting your Facebook account.
Finally, click the Delete Account at the bottom to delete your Facebook account permanently. Enter your profile password when prompted and click continue. It may take a few days to completely delete your Facebook account and the information linked with it.
Method 2: Delete your Account in the Future
Click the account menu down arrow in a browser. Click Settings and by default, you will be landed in General settings. Now click Manage Account.
You will see the menu expanding. The first feature will be Your Legacy Contact. In the box provided, enter a friend you trust. This is to let that friend take hold of your Facebook account after you pass away.
The next feature is the Request Account Deletion.

Clicking on that will give you a pop-up.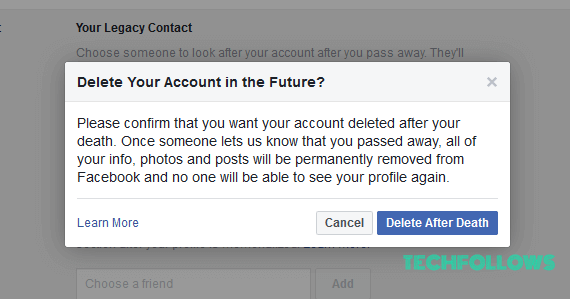 Here you will see the option Delete after Death. Once someone confirming your death, Facebook will permanently remove your data including photos, videos, posts, etc.
At last, you have the Deactivate your account link to deactivate the account. Enter your password and confirm the deactivation.
Related: How to Reset Facebook Password?
After Facebook Account Deletion

Here are the steps you can follow after deleting your Facebook account.
Step 1: Post a status on your other social media sites to notify your friends that you have deleted your Facebook account. You can also post your new contact information by which your friends could reach you.
Step 2: Your Facebook Messenger will not be affected after you delete your Facebook account. If you wish to delete your Messenger account as well follow the steps below.
Open Facebook Messenger and tap the profile icon in the top-left corner of the screen. Then Scroll down and tap Privacy & Terms > Deactivate Messenger. To confirm, enter your messenger password, then tap Continue. When prompted Tap Deactivate. Finally, delete the Messenger app from your iPhone or Android.
Step 3: Change the login information on the apps, services or sites that you used your Facebook account to log into.
Step 4: Finally, delete the Facebook app from your iPhone or Android.
Hope the article provided you with enough information on Facebook account deletion. If you still can't quit Facebook leave a comment below.
Disclosure: If we like a product or service, we might refer them to our readers via an affiliate link, which means we may receive a referral commission from the sale if you buy the product that we recommended, read more about that in our affiliate disclosure.